We have selected safety Calvin Pryor out of Louisville with the 18th overall pick in the 2014 NFL Draft.
"It feels wonderful man," Pryor told senior reporter Eric Allen of joining the Green & White as the first safety off the board. "Such a tremendous feeling. Such a sigh of relief, and I'm just ready to play football now."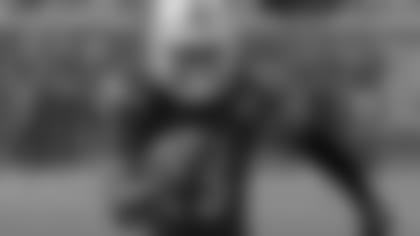 "He fits our profile," general manager John Idzik said at a news conference from the Atlantic Health Jets Training Center shortly after the pick was made. "He's a physical presence on the field, he has range, makes plays, creates turnovers. He just plays like a Jet. So, very happy to have Calvin on board."
"This young man is an enforcer," head coach Rex Ryan said. "You see how some of those kinds of plays and hits and everything else can impact a game. All you need to do is look at the Super Bowl and the play of [Kam] Chancellor back there, and Earl Thomas. It's how we want to play defense and I think this young man's going to step in and fit right in with the guys that we already have."
Pryor recorded seven interceptions over three seasons with the Cardinals, but the "Louisville Slugger" is known more for his hard hits than his soft hands as evidenced by his nine forced fumbles. He was named a first-team All-American Athletic Conference selection in 2013.
Last season, the 5'11", 207-pound Pryor registered 69 tackles, 5.5 stops for loss, 3 INTs and 2 FF. — Eric Allen (@eallenjets) May 9, 2014
This selection marks our sixth consecutive Round 1 pick used on a defensive player, dating back to 2009 with QB Mark Sanchez fifth overall. It's also the second straight year that we've used our first pick on a defensive back after taking CB Dee Milliner ninth overall in 2013.
Calvin Pryor 4th player drafted by Jets from Louisville, following QB Browning Nagle ('91), S Kerry Rhodes ('05), RB Bilal Powell ('11). — Randy Lange (@rlangejets) May 9, 2014
Our only other pick at No. 18 was QB Chad Pennington in 2000. We held the 18th pick one other time, in 1998, but we sent it to New England as part of the compensation for acquiring Hall of Fame and Ring of Honor RB Curtis Martin as a restricted free agent.
Stay with newyorkjets.comfor more coverage to come.