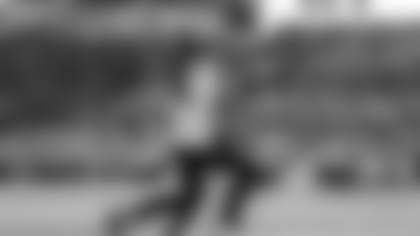 Locked in a defensive battle Sunday in Denver, the Jets secondary was up to the task and then some. Cornerbacks Sauce Gardner and D.J. Reed each had 3 PDs as the Jets tallied 9 in all against QB Brett Rypien and the DBs helped the Jets shut out the Broncos in the second half of a 16-9 win.
Reed and Gardner were locked in early as the rookie Gardner stopped Jerry Jeudy for no gain on the Broncos' second offensive play and on Denver's ensuing possession the veteran CB Reed delivered a crushing hit on Jeudy. Gardner was credited with 2 PDs in the first half and the talented tandem figured big late with the Jets holding onto a 7-point lead.
On Denver's second-to-last offensive possession, Rypien – playing in place of injured Russell Wilson – faced a fourth-and-3 play from the Jets' 25 and targeted Courtland Sutton with Gardner in coverage. Gardner timed the ball and got his hand in for a PD to turn away the Broncos.
"That was a play I was just looking through my man to the quarterback trying to locate the ball," Gardner said. "He was a little aggressive, so it was hard for me to spot the ball and my facemask was all over the place. But I finally ended up playing through his hands and made a pretty good play."
Gardner finished the game with 10 tackles and the 3 pass defenses. And according to TruMedia, it was his seveth-straight game with at least 1 PD, which is tied for the third-longest streak by a Jet since 2000.
"We knew it was going to be a defensive game," Gardner said. "So, we just had to step up and make some plays."
After a Jets' three-and-out, Denver marched past midfield again. But on third-and-long, Reed batted a Rypien pass intended for Sutton that appeared to be intercepted by LB C.J. Mosley. After a replay reversal, Rypien was nearly intercepted again on fourth down by S Jordan Whitehead as a long ball targeted for K.J. Hamler fell incomplete.
"I love the way we are playing out there, man and love the way we fight," Reed said. "When the fourth quarter comes, that's when we come out."
Reed finished with 8 tackles and 3 PDs as the Jets increased their season PD total to 37 through seven weeks after posting 61 all last season.
"I came into this game, just wanting to play well for my teammates and that's what I did," Reed said. "I thought I did a solid job."
In addition to the PDs late, S Lamarcus Joyner intercepted Rypien in the third quarter and returned it 27 yards to the Broncos' 37-yard line. The pick was the Jets' eighth of the season and Joyner's third – tying a career high – and led to a Greg Zeurlein 33-yard field goal that put the Jets up, 13-9.
Rypien finished with 225 yards passing and posted a 56.9 passer rating as the Jets' secondary helped the defense hold the Broncos to 5-of-16 on third down. Although Jets HC Robert Saleh thought both Gardner and Reed "played lights out," he still thinks the pair can reach another level.
"He's playing at a very high level and teams are going to test him," Saleh said of Gardner. "The next step he's got to take is you've got to take one. He's got to take the ball. Once he starts taking the ball, he will be eliminated from progression. The same thing for D.J."