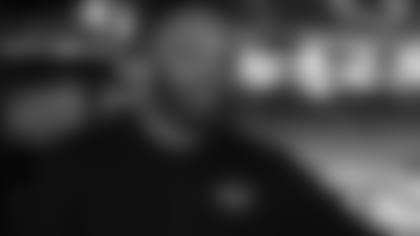 Next week, Jets director of college scouting Jon Carr will experience his first draft with the Green & White. While Carr had familiarity with GM Mike Maccagnan and VP of Player Personnel Brian Heimerdinger from their days together in Houston, he had to jump into the fast lane this offseason and get up to speed with the team's new head coach: Adam Gase.
"It's been great. The first day he came in, I had a chance to meet with him and we were just talking about philosophy," Carr said. "One of the most important things in any scouting department is you have to have a relationship with your coaching staff and understand what they're looking for from a position description standpoint."
Gase will run the offense with coordinator Dowell Loggains his top lieutenant. Known for his ability to create favorable matchups, move people to different spots and change his attack at the drop of a hat, Gase hired someone to lead the defense in Gregg Williams who shares those exact qualities.
"We spent a day with the offensive staff and then the next day, we spent with the defensive staff and each coach presented to the scouts. A lot of places don't do that," Carr said. "So it started off great. Now our scouts have an idea as far as what fits us, our philosophy, from offense, defense and special teams. So far, so good."
In addition to the big names on the coaching staff and some of the key returnees, Carr believes Gase brought in valuable depth across the board. It's a veteran staff that includes tight ends coach John Dunn, who was an assistant head coach/offensive coordinator at UConn, running backs coach Jim Bob Cooter, who called plays for the Detroit Lions, and assistant head coach defense/inside linebackers coach Frank Bush, who was an assistant head coach under Gase in Miami. Senior defensive assistant Joe Vitt is entering his 41st season in the NFL and Frank Pollack is one of the league's most respected OL coaches.
"He's a smart guy, extremely innovative from all the places he's been," Carr said of Gase. "He's done a lot of good things from an offensive standpoint. But at the same time, he's hired some extremely smart coaches as well, guys who've had head coaching experience, guys who have been coordinators at other places."
For the second consecutive April, the Jets will head into the draft holding the No. 3 overall selection. But they'll enter the weekend with the QB box checked in a big way as they have gone to work on building around Sam Darnold.
"Now that you have that guy in place, it's big when you can look for certain players to make him even better," Carr said of the USC product who flourished in December. "That's from the offensive line to wide receiver group, even from a defensive perspective. It's huge. I'm not going to say it's easy because you still have to evaluate all the other quarterbacks who come out every year. But it's always comforting to know you have a guy there."
The QB situation mirrors what Carr witnessed in Houston. The Texans drafted Clemson's Deshaun Watson with the 12th overall selection in the 2017 NFL draft and Watson is off to a very good professional start. Over 23 regular-season games, he has connected on 66.4 percent of his passes for 5,864 yards with 45 touchdowns and only 17 interceptions. Watson, who also has rushed for 820 yards and seven scores, is known just as much for his intangibles as his physical traits. In Darnold, Carr believes the Jets have someone who is also a natural leader.
"It's funny, I was telling the coaches at the time and also Mike that those guys almost have the same demeanor. When they walk into a room, you see the leadership qualities to them," Carr said. "And I'll never forget my first day, I saw Sam Darnold in the lobby and it's like 6 a.m. and he's the first guy in the building. And it was the same way with Deshaun Watson. Those guys play on the big stage and they're never rattled. I was excited to see that you leave a place that has a good young quarterback and you're coming in and you have a guy that has the same traits. So super excited about that."
A draft is always a year in the making and Carr and the rest of the team's college scouts will experience their gamedays next weekend. Carr, who initially replaced Maccagnan as the Texans' scouting director when Mac became GM of the Jets in 2015, goes back a long way with his boss and is appreciative of the group who scouted hundreds of prospects this year all over the map.
"Obviously I had a relationship with Mike when we were together in Houston for about six or seven years," he said. "There is a lot of familiarity as far as the way he does things and what he did in Houston, so that was great. And then things I learned the last three or four years as the director in Houston, I kind of brought that in and we kind of sat down and put it all together. So it's been great. We've got a great group of scouts. They've worked extremely hard."