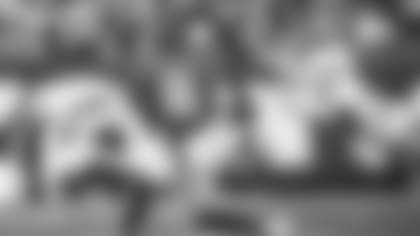 Week 5 - Oct. 9, 2022 | Jets vs. Dolphins
Week 18 - TBD | Jets at Dolphins
Hard Rock Stadium
State of the Team
The Dolphins (9-8) finished third in the AFC East last season behind the Bills (11-6) and the Patriots (10-4). This offseason the Dolphins were able to land one of the best wide receivers in the league in six-time Pro-Bowler and three-time All Pro Tyreek Hill.
Many of the Dolphins main assets are returning after they placed the franchise tag on TE Mike Gesicki, signed a brand-new five-year deal with CB Xavien Howard, and WR Jaylen Waddle returns for his second season. Last season, Gesicki led all the Dolphins' tight ends in yards (780) and tied for the most single-season receptions (73) in franchise history. Howard led the defense with 5 interceptions, had 50 total tackles, 16 passes defended, and 2 forced fumbles. Plus, Waddle, the Dolphins 2021 team MVP, returns after a record-setting season. Waddle broke the NFL rookie receptions record with 104, had 1,015 yards, and scored 6 touchdowns.
Biggest Offseason Addition
Two words: Tyreek Hill. The Dolphins traded a first-round, a second-round, and fourth-round pick in the 2022 NFL Draft as well as two picks in the 2023 NFL Draft to the Kansas City Chiefs to acquire Hill.
The Chiefs selected Hill in the fifth round of the 2016 draft and he has made the Pro Bowl every year since. He earned his sixth Pro Bowl selection in 2021 after catching 111 passes for 1,239 yards and 9 TDs. Hill has 479 career receptions for 6,630 yards and 56 touchdowns in 91 games with the Chiefs and another 719 yards rushing with 6 TDs.
Must-See Matchup
The matchup of Tyreek Hill vs. any of the Jets' cornerbacks is going to get a lot of attention. The Jets' cornerback group added D.J. Reed and Sauce Gardner in addition to returners Bryce Hall, Brandin Echols and Michael Carter II.
Reed was drafted by the 49ers in the fifth round in 2018 and then signed a contract with the Seahawks in 2020. In his last season in Seattle, Reed started in a career-high 14 games, had 8 PDs, and 2 INTs. On the other hand, rookie Gardner comes to the Jets as the No. 4 overall pick in the 2022 NFL Draft. Gardner played with the Cincinnati Bearcats for three years and totaled 9 INTs, 16 PDs, and 2 TDs.
The rookie's and veteran's combined talents will be the matchup to watch when guarding Tyreek Hill in Week 5 and Week 18.
Table inside Article

| Category | Player | Total |
| --- | --- | --- |
| Passing Yards (TDs) | QB Tua Tagovailoa | 2,653 (16) |
| Rushing Yards | RB Myles Gaskin | 612 |
| Receiving Yards | WR Jaylen Waddle | 1,015 |
| Receiving Touchdowns | WR Jaylen Waddle | 6 |
| Tackles | LB Jerome Baker | 92 |
| Sacks | DE Emmanuel Ogbah | 9 |
| Interceptions | CB Xavien Howard | 5 |