End of the Road
Josh McCown's career year came to an abrupt end last Sunday in Denver.* *He suffered a broken left hand in the third quarter after taking a hit from Broncos OLB Shane Ray and was subsequently placed on injured reserve Tuesday. Not only did McCown set personnel bests with 2,926 yards passing, 18 touchdown throws and five scoring runs, but the 38-year-old signal caller made the players around him better and it allowed the organization to take a long look at different positions along the way.
"It's very tough. The reason that it's tough is because you know how hard he worked," said former Jets QB Chad Pennington. "You know how well he's played and he's been able to keep the team stable. And you know what his age is. When you get to his age, you just never know if you have another down left, another year. You don't know what your future holds. To have to end your season like that, it's certainly difficult."
The 38-year-old McCown, who has raved about the Jets' chemistry since the spring, was emotional when addressing the media during his postgame news conference.
"I experienced this too. You get into certain situations where you just really like the makeup of your team and the people and teammates you work with on a daily basis. It really energizes you to get up in the morning every day and go to work and try to be successful," Pennington said. "He had one of those situations here in New York and he was really enjoying that."
Shift in the ProcessBryce Petty will make his first start of the season Sunday against the Saints, but both Petty and second-year passer Christian Hackenberg will receive team reps in practice. Petty is slated to make his sixth career start, but Hackenberg is truly one play away.
"I expect the players that have played well thus far continue to play well, but I think the evaluation process now is completely on the two young quarterbacks. The organization has been able to see  —  because of McCown's play —  what they have in the other players. They know exactly what they can do and should do," Pennington said. "Now the young quarterbacks know what these players can do. So these young quarterbacks, when they have their chance to play, they have to go out and show they're worthwhile, have value in this organization and can win. That's the name of the game the next three weeks for these young guys. When they get their opportunity, they have to play well. They have to prove they deserve to be on this team and that's the bottom line."
Hitting the MarkOperating in a different system last year, Petty completed 56.4% of his passes in six appearances with three touchdowns and seven interceptions. The 6'3", 230-pounder, in his third season out of Baylor, is a tough competitor who throws an accurate long ball and is athletic enough to create space in and outside the pocket. While he completed just 2-of-9 in his relief role against the Broncos, Petty connected on 67% of his throws in the summer.
"He has to improve his accuracy. When you have an out route that's wide open, you have to hit it," Pennington said. "That has to be 100-for-100. Then what I want to see and I want him to recognize he has the physical ability that if it doesn't look real good, he can make some plays with his feet. Instead of trying to force the ball into tight coverage, if he doesn't feel comfortable with it, he needs to feel comfortable getting out of the pocket and make something happen with his feet. Or extend the play and use his arm strength to make a big play down the field."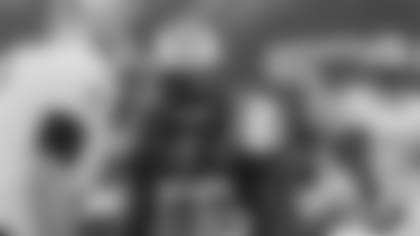 On TargetPennington is the* *second-most accurate QB in NFL history. Drew Brees resides in the top spot with a career completion percentage of 66.9 For all the talk about the Saints' run game, Brees is having a "quiet" year while completing 71.7% of his tosses for 3,569 yards with 19 touchdowns and six interceptions.
"It's much easier to do it for one week, one month or even a year. But when you consistently do what he's done for 17 years, that's impressive and it's almost impossible to do," said Pennington of Brees,  who likely will become the NFL's all-time passing yardage leader in 2018. "There's very few people that can do it and he's one of them. I think what's also impressive with Drew Brees is that he doesn't fit your typical NFL physical mold and he's proven that you can play quarterback in this league and have different skill sets and be successful. He's been able to do that sitting there at 6'0", 6'1". He's been able to still push the ball down the field and do some great things. Above all, he's an amazing leader. He leads that team and he's led that team since 2006."
The PlanPennington expects the Saints to mix up their looks* *because sending repeated pressure packages would actually simplify things for Petty. He believes the Saints, who are tied for 10th in scoring defense (20.2 Pts/G), will try to make Petty hesitant instead of being able to make quick decisions.   
"Just accumulate first downs. Don't worry about scoring," he said. "Any time you play against Drew Brees, you feel like you have to put up 40 to have a chance to win. With this year's Saints team, they're running the ball really effectively. Defensively, you have to focus on Mark Ingram and the run game and then in the secondary, really take a look at their play action game. They do a good job with that, moving Drew around and using that play-action game to push the ball down the field."