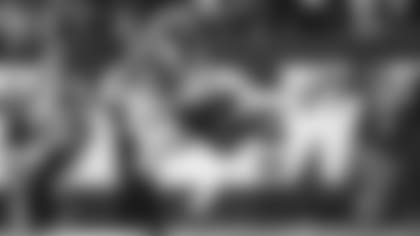 For the first time since 2017, Marcus Maye is healthy and will start all 16 games of the regular season. 
"It means a lot," Maye said. "That's probably the main thing, just staying healthy, staying available. Going into the year, that was one of my main goals, just being out there with the guys and trying to be out there for my team."
In his rookie campaign, the 6-0, 207-pound safety had a strong year and played in every game of the regular season, recording 77 tackles, 2 INT and 1 FF before sustaining an ankle injury in the final game, and injury which lingered into the off-season. He was riddled with injuries in his sophomore year. In 2018, Maye missed the first three games with a foot injury, then later sustained both thumb and shoulder injuries that eventually forced him on IR. He started only six games in his second year in the league.
"That was our talk through the off-season was for him to be on the field for all of the games and to finish strong," said safety Jamal Adams, referring to Maye. "That's what we preached and that's what we were shooting for as one of our goals together, just to be on the field. I'm definitely happy for him. What he's doing on the field does not shock me. It shocks a lot of people on the outside because they don't really watch him or understand who he is as a person and as a player. So, what he's doing, hats off to him and I'm excited to be out there each and every time I get to step out and have an opportunity with him."
In 15 games in 2019, Maye has been a consistent presence in a depleted secondary. The Jets' 2017 second-round pick has totaled 57 tackles, 7 pass defenses and 1 INT, which came last week against the Pittsburgh Steelers. Sunday's game at the Buffalo Bills will mark a full, healthy season and 16 starts for Maye. 
"Definitely a lot of ups and downs," Maye said about the long road back from injuries. "Injuries are something you can't control in our game. It's just part of the nature. Trying to get back out with the long off-season with rehab and treatment sessions is definitely something that's not easy to go through. You have a goal and it takes each day to reach that goal. My goal was to start the season healthy, strong and then finish strong. To get to this point now and look back at everything I've been through, it's definitely a heartwarming feeling to be at this point now. All I have to do is finish strong."
Maye will head into the Jets' final game of the season with Adams — his partner at safety — by his side. Adams missed the first two games of his professional career in Weeks 14-15 after sustaining an ankle injury. The dynamic safety twosome will look to finish the season on a high note after the win against the Steelers last week. 
"He's a tremendous football player and I've been saying that," Adams said of Maye. "People are starting to realize that he should be in that high caliber and talked about in that sense of being one of the best safeties in the league. At the end of the day, he's just going to continue to keep his head down and that's just the person he is. He might not say much, but his confidence and hard work pays off."