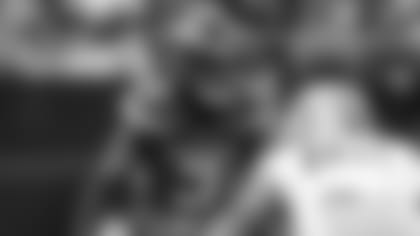 Table inside Article

| Jets Player | Exp in '23 | GP-GS-DNP-IA | D-ST-Total Snaps |
| --- | --- | --- | --- |
| Jordan Whitehead | 6th | 17-17-0-0 | 1130-27—1157 |
| Lamarcus Joyner | 10th | 14-14-0-2 | 873-10—883 |
| Will Parks | 8th | 14-3-0-1 | 210-148—358 |
| Ashtyn Davis | 4th | 14-0-0-3 | 13-278—291 |
| Tony Adams | 2nd | 11-1-0-6 | 118-128—246 |
Finished on Injured Reserve: Joyner
POTENTIAL FREE AGENTS IN '23
'23: It's Whitehead and ...
As the Jets bulked up at cornerback with the drafting of Sauce Gardner No. 4 overall and the signing in free agency of D.J. Reed for the 2022 season, the Green & White also had a changed look at safety with Lamarcus Joyner appearing in 14 contests and newcomer Jordan Whitehead starting all 17 regular season games.
Joyner, 31, will soon be an unrestricted free agent. Whitehead, in his first season with the Green & White after signing in free agency from Tampa Bay, had a strong season (his 1,130 snaps was second only to Reed on the defense) and said that the offseason for him is about building relationships with his young teammates.
"It's this off-the-field stuff that's gonna make us tighter, visiting each other's homes and things like that," Whitehead said. "Which we're going to do this offseason, rookie dinners and things like that, that's coming up. That's gonna make us closer. "
'22: Quick Look Back
As good as the Jets' defense was during the 2022 season, HC Robert Saleh and DC Jeff Ulbrich throughout the season lamented the group's difficulty taking the ball away from the opposition.
"We're looking at three different opportunities a game where we have a chance to get a ball and we're just not getting it," Saleh said during the season. "We're going to get them, we just have to catch the ones that are thrown to us."
The Jets finished in the middle of the pack league-wide with 12 interceptions (Pittsburgh and San Francisco led the NFL with 20 each) and only 4 fumble recoveries, the second-fewest in the league (Dallas led with 17). At safety, Joyner had 3 INTs to lead the defense while and Whitehead had a pair. According to Pro Football Focus, Whitehead dropped 4 potential interceptions, second-most among all safeties.
"I left a lot on interceptions out there so that the goal this offseason is working on my hands, and coming down with the interceptions, because those are the game changers," said Whitehead.
Whitehead was the team's most consistent safety -- he was a fixture in the lineup was third on the team in tackles (behind LBs C.J. Mosley and Quincy Williams) with 89 total (58 solo).
Joyner, who missed nearly all of the 2021 season after being signed in free agency from the Raiders, finished the season on Injured Reserve, missing 3 games overall. In his absence, Tony Adams, the undrafted free agent out of Illinois who made the 53-man roster out of training camp, saw action in 11 games.
"I thought he did a lot of good things," Saleh said of Adams. "He did a really good job stepping in for Joyner, going to get a really good look at him because I think he's got a bright future for us."
Along with Adams, Will Parks (primarily at nickel) came on late in the season, but overall, the position group could have some movement in the offseason.
Safety Trivia
Before the turnover tap was turned way down late in the season, Joyner came up with four takeaways in the span of four games. That total led the Jets in TAs in 2022 and was also the most in a season by a Jets safety since Kerry Rhodes had four takeaways, in a six-game stretch, in 2009.