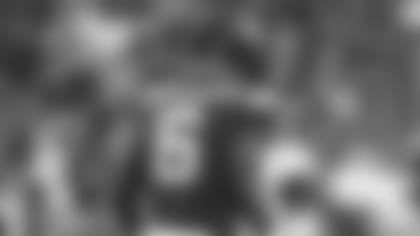 The last time the Jets played the Ravens was Week 15 in 2019 amid QB Lamar Jackson's MVP campaign.
Baltimore won, 42-21, as Jackson threw 5 touchdown passes. Three seasons later, the Jets defense is positioned to perform better in its next go-round in 11 days at MetLife Stadium. GM Joe Douglas overhauled the secondary this offseason with CBs D.J. Reed (free agency) and Sauce Gardner (draft), along with S Jordan Whitehead (free agency), who played against Jackson in 2018 when they were rookies.
"It's been a little while, but just playing quarterbacks like him, all 11 men have to do their jobs," Whitehead said. "If somebody is off their key that play, that's a touchdown or a first down. You just have to be very detailed playing together."
That game, a Ravens 20-12 win, was Jackson's fifth career start. He's since been to two Pro Bowls (2019 and 2021), been named an All-Pro, led the NFL in touchdown passes and rushed for more than 1,000 yards in two separate seasons. Whitehead believes the defense is ready to face Jackson, who played in 12 games last season and threw for 2,882 yards, 16 TDs and a career-high 13 interceptions.
"Lamar can scramble and make plays happen as the time goes on during the play," he said. "It's just like Zach [Wilson]. We had a lot of practice during camp with Zach coming in and giving us extended plays and chasing him down. We had a lot of work this offseason."
The Jets have already started preparing for the Ravens in their week between the final preseason game and the season opener. Baltimore's offense is without WR Marquise "Hollywood" Brown, who was traded to the Cardinals, but could have RB J.K. Dobbins and All-Pro LT Ronnie Stanley back in the lineup. Dobbins missed all of last season with a knee injury and Stanley played one game before his season ended.
Even though the Jets won't know who will be in the lineup Week 1, the Ravens' philosophy under OC Greg Roman, who's been in his role with the team since 2019, remains the same.
"They've been running the same offense for a couple years, so they have a lot of film," Whitehead said. "You just have to play real hard against Lamar Jackson."
Whitehead, who has been to the postseason each of the past two seasons and has won a Super Bowl, understands the importance of starting fast both in a game and the season. The Jets are young and are incorporating a lot of new pieces, like Whitehead, but he's encouraged from the team's performance in the preseason.
"AFC games, division wins, you want to get those out of the way and get to 1-0 on the board early just to get that momentum even in the preseason," he said. "3-0 preseason doesn't count, but that momentum with this team is very important.
See the 53-man roster in photos leading up to the 2022 season.