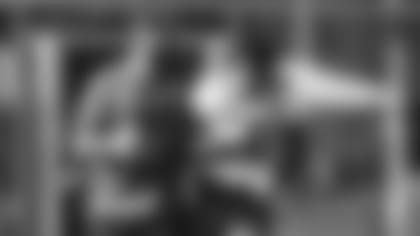 Jamal Adams has taken his on-field talking to a new noise level. Not even head coach Adam Gase is immune.
"He's aiight," Adams said Thursday about Gase after the two bantered on occasion during the just concluded practice. "I'm not going to give him too many props because he's going to take that to the head."
Nothing to worry about here, though. It's a mutual diss-cussion group, done for the betterment of the team, not to its detriment.
Gase, said the Pro Bowl safety in finishing his thoughts on his HC, "is a phenomenal offensive-minded coach. He definitely puts his players in great positions to make plays. He keeps the defense on our toes, know what I mean? So we've got to disguise well and definitely try to slow him down best as possible."
And in general, Adams says about the talk, "Anytime you come out here on the practice field and you're talking noise to your coach, your head coach, it's kind of fun. But it's just competitive spirits. Again, everybody's out there talking noise, having fun, and trying to make as many plays as possible."
That's exactly how Gase sees his relationship with one of his defensive pillars.
"We talk a lot," the coach said. "A lot of times on the field, anytime I walk by him when we're around the meeting rooms, he's trying to shoo me away because he doesn't like what I'm saying. But I love his perspective on things. When he hits the grass, it's all ball. He brings the energy. He gets both sides going because he's going from the time he gets out here until the time he gets off the field and probably a little bit after.
"That does something to guys. You feel it. He's got juice to him. It's fun to be around. It's fun to coach against. When you're on opposite sides in practice, it's just one of those things where you're glad you're on the same team as him because he brings fire every day."
Naturally, with noise there must be production. Adams said the defense is hard at work on upping the Jets' numbers, especially in takeaways, which, except for 2015, haven't been close to the NFL's top 10 in the past seven seasons.
"We're flying around the ball making plays," he said. "We've just got to be more consistent as far as getting more turnovers. I think that's what's going to separate us."
That, and maybe knowing when to turn the noise up to 11 and when to pull the plug.
"Obviously there are certain times and certain ways to do it," Adams said. "You've just got to have control of what you can't say because at the end of the day, you're out there to make plays. And I definitely don't talk if we're losing, I won't say a word. You've just got to know when. There's certain times.
"But when you're flying around the ball, making plays, having fun with your brothers, there's nothing like it."