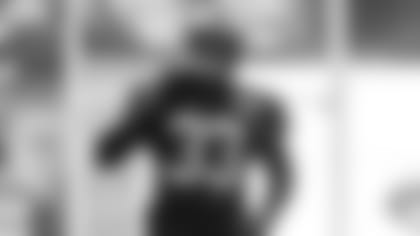 Jamal Adams never stops talking, but he tends to keep his word count to a minimum during his weekly locker room chats with reporters. When the second-year safety was asked Monday if there was anything special regarding Sunday's upcoming clash with the Patriots, Adams elected to use only two words.
"Tom Brady," he said of the Patriots' signal caller. "It's simple man."
Adams, a pro sophomore, has only faced Brady twice during his career. Although Brady did throw for four touchdowns in New England's sweep last season, the future Hall of Famer completed just 51% (38-of-75) of his passes against the Jets in 2017. Adams sounded a little like Ric Flair today, echoing The Nature Boy's sentiments about taking on the best.
'It's exciting. To be the best, you want to play against the best," said Adams, who is tied for the team lead with eight tackles for loss and ranks second on the defense with nine pass defenses . "You have to beat the best and that's just how I am. I'm competitive, he's competitive, they're competitive, we're all competitive in here. We're playing against the best, so we're looking forward to it."
While Flair memorably referred to Ricky Steamboat as the greatest wrestler on earth, he declared that he was "The Man" in the process. With the Jets just 3-7 and on a current four-game losing streak, Adams just yearns for another shot in the ring. Brady, a five-time champion, four-time Super Bowl MVP and three-time NFL MVP, will enter MetLife Stadium with a lot of gold attached to his belt.
"Just fighting, fighting, keep fighting. That's all we can do and one game at a time," Adams said. "Our goal, our mission, is to win all six of them. That's our goal and we're going to take it one game at a time."
It appears Adams will line up in Week 12 against a second future Hall of Famer in Rob Gronkowski. Gronk, who missed three of the past four games due to back injury and has just 29 catches in 2018, tormented the Jets and Adams in Week 6 last season while totaling six receptions for 83 yards with two touchdowns in a 24-17 triumph. And while the Patriots took care of business in a decisive 26-6 victory at Gillette Stadium in Week 17, Adams helped keep Gronk off the stat sheet.
"Obviously he is a tremendous player, a future Hall of Famer in my book. Obviously I'm looking forward to the matchup any time I'm on him," he said. "He's a great player. That's an outstanding team that is well-coached and we're looking forward to the matchup."
Adams, who could be Pro Bowl bound for the first time in his career, is a throwback in terms of his love for the game. He has repeatedly discussed his disgust with losing and says every Jet will have plenty of reason for motivation down the stretch.
"We're going to take it one game at a time and go out there and play for the Jets, play for the organization, play for this city, this fan base, play for the last name on our backs… Everybody has a different 'why' in here, but at the same time we're going out there to play football," he said.