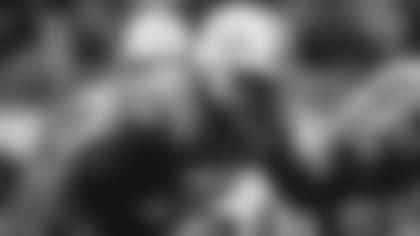 Jets right tackle Brandon Shell battled both personal and team adversity in 2018 and he believes this year's hardships will prove to be beneficial moving forward.
"I just learned that whatever happens, you have to keep going and look forward to the next thing," Shell said on New Year's Eve when the players cleaned out their lockers. "We weren't fortunate to win a lot of games this year, but it's still a stepping stone.
"You learn a whole lot about yourself when things go bad – what type of person you are, what type of character you carry towards the team, how you act with other players. I just learned that you have to keep pushing and you have to think positive even when things are going bad."
In Week 15 against the Texans, the third-year player's season ended when left guard Spencer Long rolled up on his leg. Shell was carted off the field at MetLife Stadium with what seemed to be a gruesome knee injury and he was placed on injured reserve four days later.
"We ran the tests and everything and the results came back with six weeks (recovery period)," said Shell of his recovery period. "I'm thankful for that."
The 6'5", 324-pounder did not miss a snap this season before his injury (850 offensive plays) and is hopeful to be healthy in time for OTAs. As for Shell's play prior to his injury, he described it as "up and down."
"I was happy with some things and wasn't happy with some things. That comes with the game of football," he said. "You're not going to have a good day at the office every day. You have to take the good with the bad, make good out of it and just prepare yourself for the next step."
The former fifth-round pick has started 29 games for the Green & White from 2016-18. However, this season was the first under the tutelage of offensive line coach/run-game coordinator Rick Dennison and Shell believes the line bought in to Dennison's system and did a good job battling injury.
"We had to make some changes when James (Carpenter) went down and Spencer (Long) moved to guard. Jon Harrison came in and did a good job with communication and things, so it wasn't really a big drop-off.
"I feel like our room as a whole, we have good chemistry. We joke around all the time. Whatever we say to each other, it's nothing that's harmful. We know our teammate has our best interest and if he says something you don't like, we know it's not because he's trying to get on us. It's because he's trying to help."