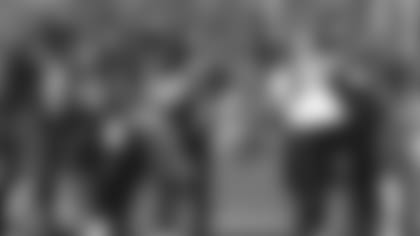 Quarterback (4)
Sam Darnold, Trevor Siemian, Davis Webb, Luke Falk
Spring Synopsis
Darnold, who will turn 22 on June 5th, is learning his third offense in three years. After Adam Gase was hired as the Jets' head coach in January, Darnold said he was, "really excited about putting up a lot of points." He and Gase have meshed well early on, finding both commonality in their love of the game and the insatiable hunger to work on the field and in the classroom.
"Players love him and I think right away our guys are going to notice he's so passionate about the game, it's going to be hard to go out there and not have that passion," Darnold said of Gase.
The spring will continue to provide a valuable feeling-out process between the student and the mentor. Along with Dowell Loggains, the team's offensive coordinator and quarterbacks coach, Gase will start with a wide look and narrow things down so his quarterback is best situated for success. Gase has never been a one-scheme coach and that openness should again serve him well with a talented young passer equipped with good feet.
"It's going to be one of those situations where, if he doesn't feel comfortable with something, that's probably going to get scrapped really fast because if he's not comfortable with it, it's probably not going to be good for us," Gase said.
Biggest Question
For years, the Jets didn't have a long-term answer at quarterback. Now with Darnold in place, how quickly can he ascend in Year 2? While the door hasn't officially been closed on a Josh McCown return, Darnold will go through the paces without his most-trusted confidant. There are four quarterbacks on the roster including Luke Falk, who is familiar with Gase's approach after spending time in Miami last season.
Running Back (7)
Le'Veon Bell, Eli McGuire, Ty Montgomery (WR/HB), Trenton Cannon, De'Angelo Henderson, Valentine Holmes (RB/WR), Jalin Moore (R)
Spring Synopsis
On April 18th, Bell posted a video of him working out with copy attached that read, "They haven't seen the best of met yet… I promise." After a year off, Bell signed with the Jets in March and the multi-dimensional offensive weapon, who did not attend the team's voluntary minicamp, has come to New York with a chip.
"I wish I had his style and I wish I had his ability. I think he's one of the most gifted running backs in the NFL and possibly all-time one of the most gifted backs," said Curtis Martin, a Hall of Famer who is the club's all-time leading rusher. "I think the sky's the limit for him. I hope his career just continues to push forward and gets even better here in New York."
The Jets also added Ty Montgomery and have listed the fifth-year veteran as a WR/HB, so expect him to move around a bit. Cannon, originally drafted for his return prowess, was lethal on coverage last year. He will compete to get the rock as a return man again in 2019. The Jets won't overwork Bell in training camp and don't expect him to duplicate the 406 offensive touches he had in 2017.
"You can wear a guy out with too many rushes, too many touches, too many snaps and too many practice snaps," Gase told reporters at the NFL owners meetings. "We'll keep an eye on that. This is not going to be where we burn him out in the first six months. We're aware of that."
Biggest Question
What is in store for a refreshed and reinvigorated Bell after a full year off? And what will the backfield look like without Bilal Powell? For the first time since 2011, the Jets will likely head to a training camp without the fan favorite. A fourth-round pick out of Louisville, Powell had an amazing run with the Green & White while ranking 10th, 11th, 6th, 9th and 13th in rushing yards (3,446), rushing attempts (791), rushing average (4.36), offensive touches (995) and scrimmage yards (5,013).
Tight End (6)
Chris Herndon, Eric Tomlinson, Neal Sterling, Jordan Leggett, Daniel Brown, Trevon Wesco (R)
Spring Synopsis
Gase has showered praise on Herndon, calling him a "unicorn type player" who can play all three downs and be strong in every skill set required to excel at the position. The Jets' first-year head coach hasn't had a tight end with Herndon's receiving skills since he coached up Julius Thomas in Denver and Miami. After hauling in 39 receptions for 502 yards (12.9 yards/catch) and four touchdowns and earning Darnold's trust along the way, Herndon could be poised to produce more.
Biggest Question
How will the rest of the depth chart shake out beyond Herndon? The Jets drafted Wesco in the fourth round because they envision him a starting "Y" tight end at some point and his strength as an inline blocker could be a perfect complement to Herndon in the years ahead.
Center/Guard (8)
Jonotthan Harrison, Kelechi Osemele, Brian Winters, Tom Compton, Jon Toth, Jordan Morgan, Tyler Jones (R), Toa Lobendahn (R)
Spring Synopsis
Affectionately referred to as "Harry" by his teammates, the ball now literally rests in Harrison's court. He was the team's pivot down the stretch last season and Gase liked what he saw on film.
"He has a lot of abilities that we need in this offense against the teams we're going to be playing this year," Gase said of the athletic center. "I really saw a lot of good stuff on tape."
Biggest Question
What will a change of address mean to Osemele? After earning Pro Bowl nods in 2016 and '17, Osemele's third season in Oakland was slowed by toe and knee ailments and he was limited to just 11 contests. With 30 on the horizon, Osemele leaned up with a ketogenic diet and intermittent fasting to get in shape and prevent injuries. The Jets need a healthy Osemele because they expect him to be the tone-setter up front.
General manager Mike Maccagnan will continue to explore every avenue to improve his roster but quality centers typically don't spring loose this late in the offseason. The Jets like Harrison and the 27-year-old could have a great opportunity in front of him.
Tackle (6)
Kelvin Beachum, Brandon Shell, Brent Qvale, Chuma Edoga (R), Eric Smith, Wyatt Miller (R)
Spring Synopsis
Beachum and Shell have started 32 games and 26 contests at LT and RT, respectively, the past two seasons. Maccagnan benefited from his study of Sam Darnold in the lead-up to the 2018 NFL Draft, having the opportunity to watch a lot of Edoga in person. A third-round pick this April, Edoga played primarily right tackle with the Trojans but Maccagnan believes the 6'3", 308-pounder has the athletic ability to play left tackle and also kick inside to guard.
Biggest Question
Where will the Green & White work Edoga initially? Is he a player who can compete for playing time immediately or will he benefit from a year of development and some time in Justus Galac's strength program? The Jets re-signed Qvale in March and he brings veteran experience behind Beachum and Shell, having started 14 games and appearing in 60 contests in 2015-18. Smith and Miller are young players who will grow under respected veteran line coach Frank Pollack.
Wide Receiver (12)
Robby Anderson, Quincy Enunwa, Jamison Crowder, Josh Bellamy, Charone Peake, Deontay Burnett, Quadree Henderson, J.J. Jones, Tim White, D'Angelo Yancey, Greg Dortch (R), Jeff Smith (R)
Spring Synopsis
The Jets are set 1-3 with Robby Anderson, Quincy Enunwa in addition to Jamison Crowder primarily manning the slot. Everyone, though, will be interchangeable in Gase's attack. Bellamy played under Gase in Chicago and he is a culture guy who figures to be a core specials team performer for Brant Boyer. There will be a ton of competition down the line and it will be interesting to see how many receivers the Jets ultimately keep on the roster.
Biggest Question
Who will bring the most special teams value? Will the Jets ultimately have room for both Bellamy and Peake, a 6'2", 209-pounder who had 22 receptions in his first three seasons and is also an excellent performer on teams. Last season, Peake finished third on the coverage units with 11 stops. Claimed off waivers from the crosstown Giants, Henderson was a dynamic returner at the University of Pittsburgh. Dortch, an intriguing 5'7", 173-pound UDFA from Wake Forest, is an explosive playmaker with return ability. He doesn't need a lot of space to make things happen and his receiving game at Wake was impressive as well, hauling in 142 catches for 1,800 yards with 17 scores.