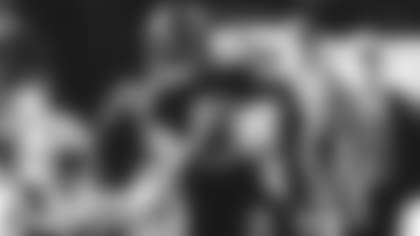 The next time wide receiver Garrett Wilson catches a pass, watch his feet. He's perfected a quick two-step that is actually called the Euro-step. Plant your right foot and quickly shift your weight to the left (or vice versa), leaving defenders grasping for jersey.
In last week's game against the New England Patriots, the rookie first-round pick out of Ohio State had his best performance in the NFL -- 6 receptions for 115 yards. It made him the first Jets rookie since Al Toon, drafted out of Wisconsin in 1985, to have a pair of 100-yard games -- and there's still nine games left in the regular season.
Wilson is already known for what many of his teammates call his "wiggle." But tight end Tyler Conklin, who had a pretty good game himself against the Pats (6 catches, 79 yards, 2 TDs), cited the lithe Wilson for using the Euro-tep with excellent results. In the Jets season-opener against Baltimore, Wilson took a pass from Joe Flacco and left defender Kyle Hamilton grasping for air as he unfurled the move.
"Everybody is kind of saying it now, I was saying it since I first got here ... he has a bit of Justin Jefferson in him," Conklin said, referring to his former teammate on the Minnesota Vikings. "Just the way he moves, he has a kind of like Euros-stepping as he strides, in the wiggle and slipperiness he has to beat coverage. He has a special ability after the catch. He moves around in the slot playing Z [outside WR off the line] and X [weak side receiver on the line]. And just intricacies that go with that, outside man coverage, inside in the slot. He's just going to keep growing and get better."
On the Jefferson comparison, Conklin added: "I never told him, and I hope he doesn't hear this. He's super humble. Just the way he moves, high pointing, the Euro-step, running any type of route, the slipperiness of it."
The Euro-step was first seen -- no surprise -- in Europe, but in European basketball and more specifically in Yugoslavia and other countries in Eastern Europe. The move migrated to the NBA more than 20 years ago and was used by players like Toni Kukoc of Croatia and the Chicago Bulls, and Manu Ginóbili of Argentina and the San Antonio Spurs. Ginóbili picked up the move when he played in the Italian league.
Last Sunday, with the veteran WR Corey Davis out with a knee injury, G.Wilson (6-0, 192) used his size, speed and slight build to clock the fastest time in the game --18.76 miles per hour -- when he took a shovel pass from Z.Wilson and zipped 23 yards.
Jets HC Robert Saleh said that "Garrett is playing at such a high level."
Wilson broke out of the gate quickly in his first season of professional football: In Week 2 at Cleveland, he had a season-high 8 catches, 102 yards and 2 TDs, including the late game-winner that capped the Jets' furious comeback; the next week he had 6 catches for 60 yards against Cincinnati. His production dropped off Weeks 4-7 before last week's performance.
"The way it's gone the whole season it feels like a step up from college, playing a tough opponent every week," G.Wilson said this week. "At Ohio State, we had a tough game here or there. There's nine weeks before the playoffs, which is the start of another season."
G.Wilson and Z.Wilson are building a strong relationship on the field exemplified by one of their explosives against the Pats -- a 54-yard play when Z.Wilson rolled to the right and found G.Wilson downfield after a double move for a play that ended at the New England 15-yard line, leading to the opening field goal.
"People have to step up, there's a new number being called every week," G.Wilson said. "I know how I go about my business. It doesn't change much. If they want to put more on my shoulders or take some off, I just have to do my job to the best of my ability."
The Ohio State product also owns the distinction of having tied the Jets legend Wayne Chrebet's rookie mark of 34 receptions through eight games. The next challenge for the Jets (5-3) comes Sunday when they face the AFC East-leading Buffalo Bills (6-1) at MetLife Stadium.
"They're a great group, really disciplined," G.Wilson said. "And they understand what they are trying to accomplish on defense. They play well with each other and communicate really well. It will be fun to match up with them."