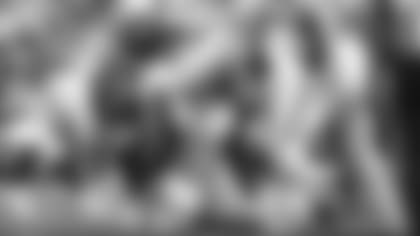 It was a game of firsts for the Jets' 2023 draft class. Five of the team's seven picks were in action Friday against the Carolina Panthers at Bank of America Stadium. Below is a recap of how they performed.
DE Will McDonald IV
Following last Thursday's preseason opener against the Cleveland Browns, Jets DE Will McDonald, the No. 15 selection in the first round of April's NFL Draft, told the media next time he got to the quarterback, he would come away with a sack. Saturday afternoon, McDonald registered his first QB takedown.
In the second quarter, McDonald used a rip move to get by LT Larnel Coleman and drop QB Matt Corral for a five-yard loss.
On the sack, the Jets only rushed three and McDonald came away with his only tackle of the game. The Iowa State product played 18 snaps (38%) on defense – 11 pass rush snaps – and 9 on special teams (45%).
TE Zack Kuntz
On fourth-and-goal with 1:45 remaining in the fourth quarter, TE Zack Kuntz got open on a drag route and QB Tim Boyle found him for the rookies' first touchdown.
"It was a great job by Tim just going through his progressions and operating the way he knows too. It's the same thing every day at practice, but props to him getting me my first one."
The Jets' seventh-round pick (No. 220) from Old Dominion, Kuntz finished with 2 receptions for 17 yards. He played 21 snaps (30%).
C Joe Tippmann
Second-round pick (No. 43) C Joe Tippmann replaced starter Connor McGovern and the Wisconsin product's 53 snaps (75%) on offense led the team.
"It was a good feeling just to be able to go out there," Tippmann said. "Especially since we got the practices beforehand, just to be able to cut it loose and play fast. In the preseason games, you don't have to worry as much about making mistakes. That's kind of my thing, just be able to go out there and play confident. It was good."
With help from Tippmann, the Jets ran for 141 yards on 37 carries (3.8 yards per attempt). The offensive line did a good job protecting the quarterback, too, allowing one sack and two QB hits.
"With Coach [Keith] Carter, we kind of sat back and he kind of explained what he wanted to get done," Tippmann said. "I think we were able to buy in and be able to make his vision come true."
RB Israel Abanikanda
A fifth-round pick (No. 143) from the University of Pittsburgh, RB Israel Abanikanda led the Jets with 12 carries for 56 yards (4.7 yards per attempt).
On third down with 33 seconds remaining before the end of the first half, Abanikanda took in an inside carry, burst past the line of scrimmage and then spun past S Jammie Robinson before getting tackled on the 1-yard-line. The rush went for a 26-yards – the longest of the game.
"The O-line set up the blocks perfectly," Abanikanda said. "Throughout the whole game, I give thanks to them. I saw it happen so perfectly and then I saw the linebacker come free and I needed to have a low pad level. Once I passed that linebacker, I saw the safety coming downhill and my instincts came out of nowhere."
Tippmann added of the spin: "I might've been on the ground or something, but that was frickin awesome. ... It was just awesome just being able to see him go cut it loose."
Abanikanda added 3 receptions for 31 yards and played 25 snaps (35%) on offense to lead all running backs.
LB Zaire Barnes
The Jets' sixth-round pick (No. 184) overall, LB Zaire Barnes tabbed 8 tackles to lead both squads and his 34 snaps (71%) were the second most on defense.
The defender out of Western Michigan flew around the field all afternoon showing his versatility and agility making plays sideline-to-sideline.
CB Jarrick Bernard-Converse & OT Carter Warren
A sixth-round pick No. 204 overall from LSU, CB Jarrick Bernard Converse remains on the active/Physically Unable to Perform list and did not play.
The Jets' fourth-round selection No. 120 overall from the University of Pittsburgh, OT Carter Warren did not play (he didn't practice this week).
WR Xavier Gipson
The undrafted free agent from Stephen F. Austin, WR Xavier Gipson handled return duties and played 25 snaps (35%). Gipson returned 2 punts for 16 yards and 1 kickoff for 18 yards.
WR Jason Brownlee & RB Travis Dye
Undrafted free agent from University of Southern California, RB Travis Dye rushed 10 times for 32 yards (3.2 yards per attempt) and added 3 receptions for 25 yards. Dye played 21 (30%) snaps on offense.
Undrafted free agent from Southern Mississippi, WR Jason Brownlee had 2 receptions for 10 yards. Brownlee played 15 snaps (21%) on offense.
DE Deslin Alexandre
Undrafted free agent from University of Pittsburgh, DE Deslin Alexandre also contributed to the Jets' 5 sacks on the afternoon. Rushing from the RDE spot, Alexandre beat LT Ricky Lee and got a hand on QB Matt Corral. The Panthers signal caller felt the pressure and stepped up in the pocket. As Corral slid forward, Alexandre came around from the other side to drop him for his first sack.
Alexandre finished with 2 tackles and played 25 snaps (52%).