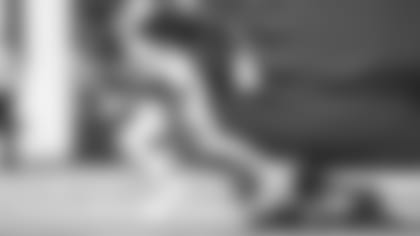 Four of the Jets' seven draft picks saw action Saturday in the team's fourth and final preseason game. The Green & White, who also got a boost from undrafted WR Xavier Gipson, defeated the Giants 32-24. Below is a recap of how the first-year players performed.
DE Will McDonald IV
The Jets' No. 15 selection in the first round of April's NFL Draft, DE Will McDonald IV, played 13 snaps (18%) and was credited with 1 tackle.
With three minutes left in the first quarter, Giants RB Eric Gray took a handoff and McDonald and DL Marquiss Spencer wrestled Gray down for a 4-yard gain. The play prior, McDonald, rushing from LDE, appeared to have his left arm twist awkwardly and went to the sideline to get his elbow wrapped.
McDonald played in all 4 preseason games and had 4 tackles, 1 sack, 1 TFL and 3 QB Hits.
OL Joe Tippmann
The Jets' second-round selection (No. 43) from Wisconsin, OL Joe Tippmann played 44 snaps (75%) at center which led the offense. After the starters played a majority of the first quarter, Tippmann took over.
Head Coach Robert Saleh said the rookie OL made a "late surge" in training camp.
LB Zaire Barnes
Linebacker Zaire Barnes, the Jets' sixth-round pick (No. 184), played 43 snaps (58%).
Barnes led the team with 8 tackles to continue an impressive summer. The Western Michigan product finished the preseason with 25 tackles, second most in the NFL.
WR Xavier Gipson
WR Xavier Gipson, an undrafted free agent from Stephen F. Austin, flashed again in punt return duty. Midway through the first quarter, Gipson fielded a punt at the 28-yard-line, made a Giants defender miss and accelerated up the sideline before his heel barely touched out of bounds at the 50-yard-line.
"I had some great blocks in front of me," Gipson said. "And you're not going to do it by yourself. But I just wish I would have scored for the guys that made them great blocks. That's the main thing."
On offense, Gipson was targeted 10 times and finished with 7 receptions for 79 yards. He played 23 snaps (39%) and was shifty after the catch.
"I thought 82 [Gipson], he took a big step forward in his attempt to make the team," QB Aaron Rodgers said. "He had multiple plays where he was short of the sticks on a lot of catches and made guys miss and he's done a good job returning."
For the preseason, Gipson totaled 9 receptions and 97 yards – finishing second in both categories for the Jets. In the punt return game, Gipson averaged 13.4 yards and had 2 returns of 20+yards.
"On the field, I'm good at punt return," Gipson said. "I'm willing to take that job and take it seriously and do it to the best of my abilities."
WR Jason Brownlee
Jason Brownlee, an undrafted free agent WR from Southern Mississippi, had 4 receptions for 50 yards. He played 24 snaps (41%).
Late in the game following a touchdown reception by WR Alex Erickson, QB Tim Boyle rolled out to his right and flipped a pass to Brownlee for a wide-open two-point conversion that gave the Jets a 25-16 lead.
Brownlee's 10 receptions and 102 yards each led the Green & White this summer.
"JB (Jason Brownlee) is a guy that can go up and get the ball," WR Garrett Wilson said. "He is physical, and I love him."
TE Zack Kuntz
Zack Kuntz, the Jets' seventh-round pick (No. 220) from Old Dominion, was held without a catch in the preseason finale and played 20 snaps (34%).
Kuntz wrapped up the preseason with 6 receptions for 41 yards in four games.
RB Israel Abanikanda, CB Jarrick Bernard-Converse & OT Carter Warren
The Jets' fifth-round pick (No. 143) from the University of Pittsburgh, Israel Abanikanda was held out with a thigh contusion he suffered in the preseason game against the Buccaneers. He still managed to lead the Jets with 113 yards rushing despite playing only three preseason games.
A sixth-round pick No. 204 overall from LSU, CB Jarrick Bernard Converse remained on the active/Physically Unable to Perform list and did not play this summer.
The Jets' fourth-round selection No. 120 overall from the University of Pittsburgh, OT Carter Warren also did not suit up.
See the best photos from the 2023 preseason finale against the Giants.