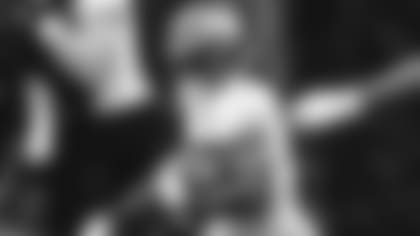 In a backfield oozing with veteran experience and leadership, rookie RB La'Mical Perine is making the most of his time training behind Le'Veon Bell and Frank Gore.
"Both are very detailed guys, so anything I can learn from them, I try to," Perrine said of his experience with the skilled vets. "They're two running backs that have had a lot of carries in the NFL and they know what they're talking about. I just sit back and learn. The first step is what I can learn from them because they are great running backs. Frank Gore runs very hard and Le'Veon Bell is very versatile, so anything I can take from their game I try to do that."
The talented twosome of Bell and Gore have more than 20 years of NFL experience, with Gore, 37, entering his 16th season and Bell, 28, his 7th.
"If I'm a rookie, or any young running back, this is a good room to be in and a good group to learn from," said RB coach Jim Bob Cooter. "I think there's some good examples in this room from how to do things the right way, how to handle your business and how to have success. Le'Veon and Frank are both very smart, so if I'm a young running back and Frank Gore is talking to me about a zone run play and Le'Veon is talking to me about a power run play, I think that's really going to have an impact on my career."
Perine, a former Florida Gator, is an accomplished running back in his own right. A fourth-round pick by the Jets in 2020, Perine, 22, entered camp after four seasons as a solid contributor to Florida's offense. As a starter his last three years, Perrine led the Gators in rushing yards, carries and touchdowns from 2017-19. He finished his collegiate career with 2,485 rushing yards on 494 carries, 22 TDs plus 72 receptions for 674 yards and 8 receiving TDs. No matter his previous accomplishments, his focus now is studying Coach Adam Gase's playbook.
"I have my times where I think, there's a lot of stuff getting thrown at me," Perine said. "But it's my job being a professional, so I have to go out there every day and prepare. It's a lot of routine stuff like getting into the playbook an hour after or before practice so I won't be messing up on the field and so it becomes second nature to me. It's not that hard, though. In college we ran the spread playbook. In the NFL, it's prostyle spread."
Although mainly participating in third-team reps at RB so far in training camp, the 5-11, 216-pound Perine will also see time on special teams. Perine — like other rookies in the NFL — has endured an untraditional first offseason, but is looking forward to the start of the season.
"I want to contribute any way I can, play in all special teams, and be ready when they call my name," Perine said. "That's my goal. Just come out and get better every day, be consistent as a player, and if I do that, I feel like everything will work out for me."