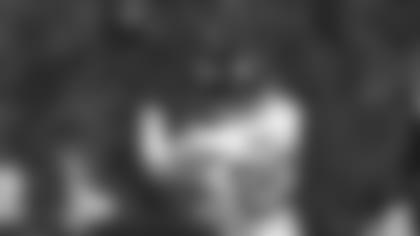 During his three years at Iowa State, RB Breece Hall was the featured back and carried the ball at a historic rate. Now in a talented, young and crowded running backs' room with the Green & White, he has learned to share the touches.
"I'm progressing every day," Hall said. "But learning this offense has been kind of different to what I did in college. There are a lot more nuances and a lot of little things that I am still learning."
While with the Cyclones, Hall (5-11, 217) had a momentous workload. His 718 attempts ranked No. 10 in Big 12 history and second to only Adrian Peterson for backs who played only three seasons. In 2020, Hall led the country in plays from scrimmage (302) and rush attempts (279) and over the last two seasons, he was second in the country with 532 attempts.
The touches were justified. A quick and agile back, Hall was a two-time Big 12 Offensive Player of the Year and finished as Iowa State's second-leading rusher with 3,941 rushing yards. In addition, he finished No. 6 in 2020 and No. 10 in 2021 in Heisman Trophy voting.
As the focal point of Iowa State's offense, Hall took as many practices and live reps as he needed.
"I have always been taught to focus on the little things," Hall said. "And let my natural ability take over."
The Jets selected Hall, 21, with the No. 36 pick in April's NFL Draft and added him to the mix with Michael Carter, Tevin Coleman, Ty Johnson and La'Mical Perine. They later signed undrafted free agent Zonovan Knight. Now without the offense centered around him, Hall has learned how to gather information from the sideline and take advantage of every touch.
"With us having so many running backs and everything you kind of got to take a lot of more mental reps," Hall said. "Because everybody is getting reps. And when you get those runs that spring loose, you got to hit them, you cannot take them for granted. I have been learning that along the way."
His most useful teachers have been his teammates. Carter, Coleman and Johnson have provided Hall with tips for staying cool-headed while waiting his turn.
"I am a rookie, so I still mess up," Hall said. "Trying to go 1,000 miles an hour I sometimes overthink everything. … I still get frustrated with myself a lot when I mess up, and Michael [Carter] and Tevin [Coleman] and Ty [Johnson] have been doing a good job of telling me to stay patient, just keep learning and keep going and to take everything with a grain of salt."
Hall has been honest about being a work in progress. But as he learns to share, he will be another asset in a talented room.
"The guy has unbelievable and incredible confidence," head coach Robert Saleh said. "He tracks the ball very well. It is very easy for him to find the ball in space. He has body control like a receiver. So, he is an asset in the offense, but so is Michael and so is Tevin."
See the Green & White practicing on Wednesday to kick off the fifth week of preseason practices.