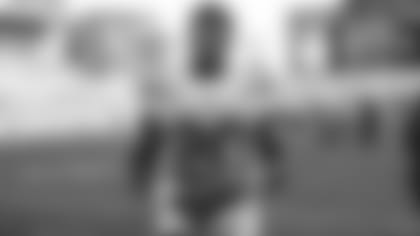 Jets rookie running back Breece Hall was first tagged with a nickname when he was in sixth or seventh grade in middle school in his native Kansas.
It's short and to the point: Breece the Beast.
The moniker stuck with Hall through his stellar career at Iowa State and now with the Jets, who selected him No. 36 overall (the first running back taken) in April's NFL Draft. A hint of that character and charisma recently hit the internet in a big way when Hall showed off his new diamond encrusted medallion and chain that evokes his nickname.
"So I got the chain in 'BH' with claws around it like a wolverine scratching, threw in some blood-red and it came out well," Hall said. "I saw it got posted all over the internet, which was not my intention. It's not anything I wear everyday. I just got a gift for myself. I feel I've put myself in a great spot, I'm having fun. My mom is not a great fan [of it], she doesn't like me spending too much money."
Though Hall has yet to plunge into beast mode after four games of his rookie season, No. 20 has displayed glimpses of what made him a TD-scoring machine for the Cyclones -- with 50 TDs over his three-year collegiate career. He displayed that nose for the end zone when he scored the game-winning TD at Pittsburgh as the Jets erased a 10-point deficit with 14 points in the fourth quarter for the 24-20 victory that evened their record at 2-2.
"It was a punch play, the offensive line having hard doubles on the linemen, and if the linebacker [Myles Jack] shot, he was going to come free," Hall said. "He did that. I gave him a sidestep and he fell off and I was able to reach the ball across. I felt like I have long arms and if I break a tackle, I get it across. I reached across and [Minkah] Fitzpatrick knocked it out, he kind of hit it out as soon as I got up. I signaled TD and waited for the replay."
The video replay reversed the initial call of a fumble, confirming that Hall, in his fourth game with the Green & White, had scored his first rush touchdown in the NFL.
"I felt like people were trying to say I fumbled, but if you watch you can see as soon as I got up, they signaled I scored a TD," he said. "I knew the coaches, once we got inside the 10, they were going to put the ball in my hands three of four plays. It shows their level of trust. I just knew I was going to get in the end zone."
That kind of confidence and belief in self seems to ooze from Hall. Through four games, he leads the Jets in rushing with 38 carries for 178 yards (a 4.7 yards/carry avg.) with a long scamper of 23 yards. He has also has caught 15 passes (on 27 targets) for 113 yards. He has fumbled once, in the season-opening loss to Baltimore, and scored his first TD on a reception against the Browns. Hall and his backfield running mate, second-year man Michael Carter, have had to adjust on the fly, just like quarterbacks Zack Wilson and Joe Flacco, to shifts on the offensive line because of a raft of injuries.
"As a running back, you have to take pride in being a human eraser, regardless of who's in the game," Hall said. "No matter how they're blocking, you have to read and react. You might have different guys [on the O-line], but for running backs it's mostly based on instinct. And regardless of who's blocking, you should be able to read it and react."
Though the Jets have only played four games (all against teams from the AFC North), Hall has shown flashes of elusiveness and offered hints of his sub-4.4 speed. The Jets still have a backfield by committee with Hall and Carter (plus Ty Johnson), though Hall is the leader in carries and rush yards.
"We've been unselfish in this process," Hall said. "I'm rooting for him [Carter] and he's rooting for me. I feel like the coaches are going with the hot hand and we both can do everything. We both can get the job done. As much as it's a competition between us, we use it to push each other to get better. We're always critiquing each other and we think we can get better. It's been fun, definitely been fun."
If he could have one play back, Hall said it would be on a wheel route against the Bengals where he had the linebacker beaten and expected Flacco, the Jets' QB through the first three games, to lead him. The field ahead was wide open and Hall was thinking TD, but the ball was thrown a bit behind him and he could not get hold of the handle.
"I can definitely critique myself and if the quarterback underthrows, I try to come back and get the ball," Hall said. "I feel like any throw to me, it's catchable. I feel like if it hits my hands, I should catch it. I'm always making fun of the quarterbacks asking if their arms are strong enough to reach me. It's been fun. I'm still working on it. I feel like I'm going to have a lot more opportunities because I feel I'm a matchup nightmare for linebackers who aren't fast and can't stay with me.
"I feel like it [my speed] shows now and then in games. I can get up on guy's toes and make them miss easily. It just shows with me running through tackles, guys think they're going to hit me, and I slip off or use a quick move. I feel like I have deceptive speed, so it surprises them all the time."
With Miami coming to town this week in an AFC East rivalry game, Hall said he and his teammates do not want to repeat the deflating loss to the Bengals that followed the Jets' miraculous comeback at Cleveland the week before.
"It was a big lesson, this week we have more of a sense of urgency," he said. "Guys are more locked in. This week we're going to push ourselves harder."
As Bart Scott said, Hall "makes it look easy, he's a glider, always smooth."
Hall's response: "I'm so smooth it doesn't look like I'm trying, but I am."
Beware Breece the Beast. He's hungry.