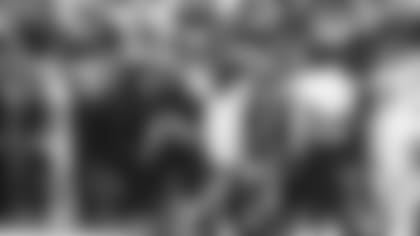 Toward the end of his postpractice interview with reporters Wednesday, second-round rookie WR Elijah Moore offered a profound thought about he and his fellow Green & White newbies are trying to turn the Jets around.
"I feel like everyone leads by example," Moore said. "So just being the rookie that [teammates] see do things, they can only learn from that. And I see a lot of vets do things so I learn from them. It's like the butterfly effect? That's what everybody says. I'm just trying to lead the way by being a rookie."
Moore, a 5-9, 184-pound pass-catching colossus at Mississippi, has had a typical NFL rook's bumps and bruises in his first two pro games. After not playing in any preseason games due to a quad injury, he got on the field at Carolina for 56 offensive snaps but had just one reception for a 3-yard loss.
Yet Robert Saleh had no doubts that Moore would rebound against New England and beyond. That feeling was underscored by a little anecdote the head coach took from the days before the Patriots game.
"I love Elijah's mindset," Saleh said. "I was walking by the receivers room yesterday and I heard chattering and voices, so I naturally popped my head in there. And there's him and Miles [WRs coach Miles Austin] putting in extra work.
"He is deliberate, he wants to be great, he wants to be special, and he demonstrates that every day."
Moore agreed that that's his approach to being a Jet, but not his alone.
"I feel like everybody in the building, we all want to be legendary, we all say it. We're all trying to switch this program around and become something that everybody remembers," he said. "It definitely takes more than just being here for the regular hours. It's seeing what we did wrong so it doesn't happen again. You make a mistake once, I promise you the same mistake won't happen again. That's the mindset I feel like we all have in this facility."
Moore came out for his first game at his other facility, MetLife Stadium, last Sunday and bounced back nicely — 57 more offensive snaps, but this time four receptions for 47 yards. His 27-yard hookup with Zach Wilson early in the second quarter was the Jets' first catch of the game, his first 20-plus catch as a pro and his first first down, and it moved the home team into position for its first points of the day on a Matt Ammendola field goal.
Not like last year for Ole Miss, when in seven of his eight games he produced double-digit receptions, in six of them he cleared 100 yards, and in three of them he scaled 200 yards. But it's a start.
"Lining up, alignments, just knowing your assignments," Moore said, ticking off several things that are fundamentally different between college and the NFL. "Everything in the league is more detailed. If your route says 12, get 12, cause getting 12 is going to open somebody else up. Just knowing the concepts and why you're doing it, it's an ongoing process for me. We have to trust the coaches. Whenever you do that, you can't go wrong."
And Saleh is among the Jets coaches who trust Moore to bust out bigtime. Maybe it will happen Sunday at Denver, maybe it will take longer. But the coach senses a colossus is coming.
"Even with him, there's going to be some things he's got to improve on, and he knows it," Saleh said. "Now it's just a matter of trusting what you do and take it to the football field on Sunday and go let it loose. I think it's just a matter of time before that happens."
See the Top Photos from Wednesday's Jets Practice Leading Up to the Broncos Game