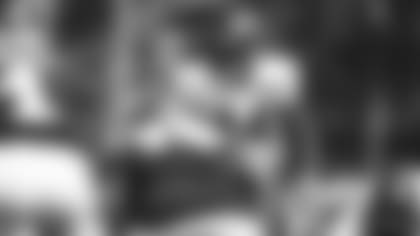 Jamien Sherwood has seen C.J. Mosley make plays in person during Jets training camp and on TV when Sherwood was younger and Mosley was already a star with the Baltimore Ravens.
And like so many promising football players, off the field Sherwood is a devoted player of Madden NFL, the ubiquitous video-game series.
"I used to play him on Madden when he was with the Ravens," Sherwood, a 21-year-old rookie linebacker from Auburn said on Tuesday, referring to the Jets' bedrock linebacker.
Now, instead of manipulating Mosley and other players on a video screen, Sherwood is "living out that dream" of not only watching Mosley, but playing next to him, talking to him in person and picking his brain. Sherwood's opportunity became apparent in Green Bay when Jarrad Davis, who had signed with the Jets in free agency, went down with an ankle injury that will sideline him for an estimated six weeks.
"I told him that," Sherwood said, referring to his video-game crush. "Keelan [Cole] and Tevin [Coleman], told all the guys. Now I'll be using the Jets!"
Not only is Sherwood now "using the Jets," he's about to be introduced to life as a linebacker in the NFL. Sure, he'll have Mosley at his side and in his ear as Sherwood (6-2, 216) adjusts to his move from safety in college to linebacker in the NFL.
"At safety, you're like 15 yards away so you really have a clear image of the field," he said. "Now that I'm in the box, everyone is moving so quickly." He added: "It's going good. Everybody has to be interchangeable, you never know what can happen. The only thing I would've thought is that it would be tough playing at this level. But football is football at the end of the day. Once I got here in rookie camp, I told myself just be confident with your calls. Put in the extra work. Just be better."
Pressed into duty against the Packers last Saturday, Sherwood pounced on a Green Bay fumble (forced by J.T. Hassell) on the first play from scrimmage in the third quarter. In the game, he made a tackle and had an assist. In all, Sherwood played 28 snaps against the Packers, after having made 3 tackles on 22 snaps against the Giants in the preseason opener.
"We really like our linebacker group," head coach Robert Saleh said after the game. "We've got a combination of youth and experience. Sherwood has been doing a really nice job. We're expecting him to slide in and pick up where Jarrad left off. He's been having a really nice camp and it's an opportunity for him to step in and take on a bigger role. With regards to that linebacker group, we're really excited about that unit."
Sherwood, a fifth-round pick, along with rookie Hamsah Nasirildeen (Florida State) are transitioning to linebacker. From draft day back in April, general manager Joe Douglas, Saleh and defensive coordinator Jeff Ulbrich projected both as long, lean and fast linebackers -- good fits for their defensive scheme.
"Sherwood has a tremendous mindset to him," Saleh said. 'He's extremely smart, he's got great command of the playbook already, he's got the respect of his peers, he is an unbelievable communicator. He's got tremendous length, tremendous instincts and he's got a great feel for the game. Again, for him, there's going to be some hiccups along the way but, we feel with reps he's only going to get better."
With Sherwood currently penciled in as the replacement for Davis, that leaves one more LB spot there for the taking. Saleh had words of support for Noah Dawkins after the Packers game, while Blake Cashman remains part of the conversation, as does Nasirildeen and others. Sherwood did acknowledge that he and Nasirildeen are in the same boat.
"When I got out of high school I wasn't a big verbal guy, very antisocial," Sherwood said. "I had to build relationships throughout college. Now, we can talk about the same things, how this looked. Having a person [Nasirildeen] like that next to you is comforting and you can play faster."
He has clearly come a long way, to the point that Ulbrich said that Sherwood "has a different level of communication than maybe I've ever seen in a rookie."
That is high praise for a young player who is confident in his ability.
"I knew in myself I could play the position," Sherwood said. "They told me that the long guys can run. At the end of the day, we don't have to do a lot of covering receiver-wise. I have plenty of reps, and I can learn from each of those reps. Studying film, talking to my coaches, talking to C.J. I talked to Jarrad today after practice. One day, I had a rough day and he [Davis] gave me some words of wisdom. He said 'just flush it, tomorrow is going to be a better day."
See the Best Images from Tuesday's Joint Practice at 1 Jets Drive