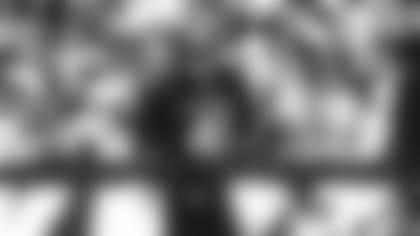 With 19 players on the Reserve/COVID-19 list and seven starters out of the lineup, a next man up mentality was a requirement for the Jets on Sunday against the Jacksonville Jaguars.
Stepping into unfamiliar roles can be challenging for any team, especially a club as young as the 2021 Jets. However, rookie defensive back Jason Pinnock, a cornerback draftee who started at safety, said the team was unphased and that attitude helped the Green & White move to 4-11 with a 26-21 win.
"It was a big "no flinch" mentality." said Pinnock, a fifth-round pick who at Pittsburgh appeared in 43 games and had 25 PDs and 6 INTs. "We had a lot of things popping up day to day, you know even on gameday, but we just went with the punches."
Pinnock was resilient, starting his first NFL game in the absence of Elijah Riley and Ashtyn Davis as the club has been decimated by injury at safety. In fact, Pinnock and Will Parks became the Jets' eighth and ninth starting safeties this season. Having only played 20 snaps prior to Sunday, Pinnock played 96% of the defensive snaps against the Jaguars and had the highest Pro Football Focus run defense grade of any defensive player in Week 16 with a 91.2.
"We relied on family," he said. "That was throughout the whole week, knowing that we had different pieces, and just trying to exaggerate the communication between all of us so that we could all play comfortable and be free out there."
Pinnock, who finished with 4 tackles, forced a Trevor Lawrence fumble at the goal line (that was recovered in the end zone by Jacksonville OL Will Richardson) and broke up a long pass intended for Jaguars' receiver Marvin Jones.
"We trusted each other, trusted our coaches, trusted our training, and we just had fun at the end of the day," Pinnock said.
For 60 minutes, the Jets and the Jaguars battled. The outcome was in question when Lawrence took a snap on fourth-and-goal from the NYJ 1-yard-line with 12 seconds remaining. That's when second-year cornerback Javelin Guidry was able to break up a pass from Lawrence to Jones, negating a come-from-behind victory for the visitors.
"I was just so happy, I saw the breakup, saw the flag was for them, and it was celebrations from there." said Pinnock of the game-winning defensive play.
The Jets will take on the defending Super Bowl Champion Tampa Bay Buccaneers Sunday at MetLife Stadium. They are expected to get back a handful of players off of the Reserve/COVID-19 list, but Pinnock knows the Jets will have to rise to the occasion in order to give themselves a chance to spring the upset.
"Big-time players make big-time plays in big-time moments," Pinnock said.