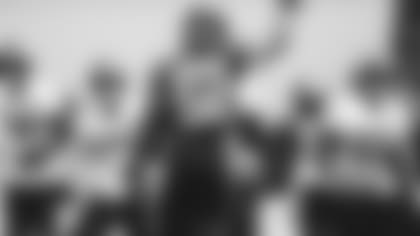 Jets rookie DL Jermaine Johnson, the No. 26 overall pick in the 2022 NFL Draft, had a long road to the NFL, with stops at Independence Community College, Georgia and Florida State. Johnson put pen to paper shortly after the draft, turning his childhood dream into a reality.
"It felt cool," he said. "It was finally like the milestone reach, but like I always like to say, 'I hit the top of the mountain, so I can focus on climbing the next one.' "
That next mountain for Johnson is learning the defense. But after playing for three schools, the transition hasn't been difficult.
"Junior college I was forced to be in different systems," he said. "Georgia, if you play in Georgia's defense, you can learn any defense. Then going to Florida State, I'm not too overwhelmed. It's more muscle memory getting my looks and my reps."
He later added: "It hasn't been bad at all. It's more the scheme. Coach likes it done a certain way, so it's getting those steps, right mannerisms and stuff like that. It's going really smooth."
Johnson's best ball came at Florida State when he played in a 4-3 front, which is what the Jets run and was part of the reason the coaching staff projects him as a good fit in their defense. He was named ACC Defensive Player of the Year with 12 sacks and 18 tackles for loss in one season in Tallahassee.
"It's not too different," Johnson said. "It's 4-3, but the angles that Coach wants when you get off the ball, the kind of mentality, it's not so much a man key but more of a ball key. It's stuff like that, so not too bad. It's definitely been fun, honestly. I'm learning it and getting used to it."
Johnson has impressed defensive coordinator Jeff Ulbrich in OTAs . Ulbrich said that Johnson is ahead of the curve compared to most rookies he's worked with. Johnson, whose No. 52 is not permanent (he wore No. 11 in college), plans to stay in Florham Park between the end of the minicamp and the start of training camp to train.
"A demonstration of his obsession with the game is that he's like the YouTuber that's constantly watching Lawrence Taylor," Ulbrich said. "He's constantly watching Von Miller. He's constantly watching all these guys and adding things to his game and growing. Even when it wasn't provided to him by a coaching staff, he was searching it out on his own. So, his knowledge of the game is probably a little bit better than most rookies, his pass rush arsenal is maybe a little bit better than most rookies and then you put that together with a guy that's got length, speed, explosion, desire and a good makeup, you've got a guy that's got a chance. Excited about him."