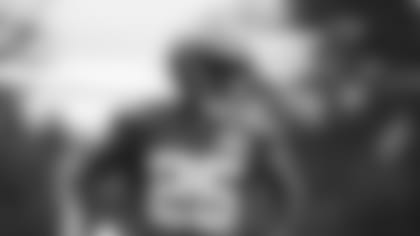 Jets cornerback Brandin Echols is used to making big leaps.
In high school in Southaven, Miss., he was a state champion in the long jump. Now the rookie out of Kentucky has made another long leap -- from a sixth-round draft pick to a spot on the team's 53-man roster to a possible starter when the Jets open their 2021 NFL season at Carolina on Sunday.
"It was a big, really, for me," Echols, 23, told team reporter Eric Allen in a segment of the Jets "Two-Minute Drill." "I still have to take every day like I just got drafted, like I'm still trying to make the team. Nothing is a given for a rookie. Particularly for a rookie."
Echols was one of three cornerbacks selected by Jets on the final day of the NFL draft in April -- Jason Pinnock and Michael Carter II were the others taken by general manager Joe Douglas. It's no secret the Jets are young at cornerback, in fact the Jets are the youngest team in the entire NFL, a fact that does not faze Douglas or head coach Robert Saleh.
"There's a little bit of an unknown factor with a young group," Douglas said last week. "But also we've been at practice, we've seen the games. We've seen these guys compete, we've seen these guys move around.
"I know they're getting the best coaching they could possibly get, so I have a lot of confidence in this secondary. They're all wired the right way. There are high-level competes in that room, and I think you guys are going to see that as the season progresses."
Echols (5-11, 178), a sixth-round pick, saw his stock rise last week when the Jets cut CB Bless Austin, which could open the door for Echols to get the start against the Panthers, across from second-year man Bryce Hall. Echols began his collegiate career playing wide receiver at Northwest Mississippi Community College after having played on offense, defense and special teams in high school.
After his transfer to Kentucky, he started in 22 straight games, with 108 tackles, 11 pass breakups, 2 forced fumbles, 1 INT and 1 sack for the Wildcats. He garnered attention with a pre-draft score of 99 for his athleticism, capped by a 4.34 time in the 40-yard dash (at his school's pro day), according to NextGenStats.
"For me, it's just a relief," Echols said about making the team. "I've been working, grinding since I was 9 years old. The route I took I was blessed by God. He has plans for people and I'm grateful He gave me time to work as a football player.
"From high school until now I've been working. I would say I've matured and gotten better physically and mentally every year since. I got moved from receiver to DB and I've worked to better myself on defense and feel I've matured throughout the years.
In the Jets' second preseason game, a victory at Green Bay, Echols added tape on his highlight reel with a third quarter interception and speedy return. Now he has his No. 25 jersey and is ready for his moment in the North Carolina sun on Sunday.
"Man, I can't tell you all the different reactions [coming out of the tunnel at Bank of America Stadium]," he said. "Every week I've been preparing. ... I can't even imagine."