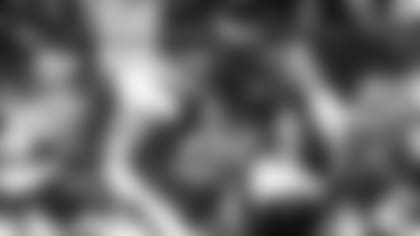 After notching a team-leading 12 sacks in his fourth season in the NFL, Jets defensive tackle Quinnen Williams was named to the Pro Bowl and then rewarded with a lucrative four-year contract extension. He plays in the heart of the productive D-line, although his personal production this season needs to be measured in more than numbers.
That was the message broadcast loud and clear by head coach Robert Saleh during his morning press conference on Wednesday. Though Williams has only a half-sack through eight games, Saleh sees significant value beyond the numbers, even if Williams told ESPN's Troy Aikman and Joe Buck that he was "the highest-paid decoy" in the league.
"Teams are going out of their way to game-plan Quinnen, to try to take him out of the game, but he's still absolutely wrecking run games," Saleh said. "Fact-check it because I'm not sure, but he ranks top-five in pressures, top-five in pressure rate, top-five in PFF [Pro Football Focus] grades, top-five in every statistical category you can conjure up. He's just not getting the sack production.
"What we've seen is a much different approach to the way teams protect against us, a lot less double-chippers and a lot more attention to Quinnen. Which means Jermaine Johnson, Bryce Huff, they're absolutely wreaking havoc on quarterbacks this year and opening it up. Teams got to pick their poison. You want to pay attention to Quinnen, our other guys are going to be productive. You want to pay attention to the edge rushers, it's going to open up for our inside guys."
With 22 team sacks so far this season, the Jets fall into the middle of the pack in the NFL (the Ravens lead with 35). Among Jets players, Huff is tops with 5, followed by Quinton Jefferson and Johnson each with 4.5.
"We live in a society where sacks are the measure of a player," Saleh added. "But that's not even close. He's wrecking games. Sure, for him he wants sacks production. We will continue to get him in 1-on-1. Other teams have a say so, too. If they still put four hands on him, it will be hard. But he's still winning at a high rate, and that opens up opportunities for other guys."
Saleh said he's much more impressed with the pressure rate stat. Since Week 5, Huff, Johnson and John-Franklin-Myers all rank among the top 5 edge defenders in pressure rate (min. 70 pass-rush snaps). Huff leads the league at 32.5%, Johnson No. 3 (20.9%) and Franklin Myers No. 5 (19.6%). According to TruMedia and Next Gen Stats pressures, Huff (a 5.11 rate in 194 snaps) is No. 1 in the league in pressures/defensive snaps (100 snaps min.). Three other Jets are among the top 100 -- John Franklin-Myers (T-No. 34, 11.0 in 319); Williams (No. 43, 11.33 in 374) and Johnson (No. 92, 15.32 in 354). 
"But he's still winning at a high rate, and that opens up opportunities for other guys," Saleh said of Williams.
In the Jets wide-ranging rotation on the defensive line, Huff has grabbed his opportunity by the throat after joining the team as an undrafted free agent in 2020.
"He's talented, another young man who's developed himself," Saleh said. "He was undrafted and played linebacker when we first got here. We asked him to remake his body. He's earning every-down reps and he's continuing to win 1-on-1 opportunities. I think his sack production has not been that great, but I do know he's top 5 in pressure rate."
Then the HC backed off his declaration that sacks are only for the stat sheet.
"We do care about sacks, but you can be a guy who gets sacks who's not changing the way the offensive coordinator is calling games," Sale said. "The pressure rate is usually the indicator whether or not you're forcing an OC to stop scheming up these unbelievable haymakers because they think they have all the time in the world. I think that's what our D-line does best, wreaking havoc. making sure the OC has to play it straight up."
Jetcetera
On the injury front, HC Robert Saleh said OL Billy Turner is dealing with a hand injury that "popped up" after the Chargers game and that it's "concerning"; LB Chazz Surratt (ankle) would not take part in Wednesday's walkthrough; and, finally, said that OL Duane Brown, who is just off injured reserve, would be evaluated as the week progresses. ... Saleh said that the recently signed OL Rodger Saffold is not in "football shape" and would not be counted on this week.