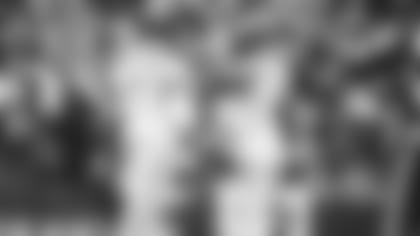 After finishing last in the NFL in total defense in the 2021 season, the Jets finished No. 4 in the 2022 season, becoming one of five teams since 2000 to have a worst-to-top-10 jump in one season.
"I thought the way the team building process has gone the last couple of years, it made sense that they did make this leap forward," said Pro Football Focus' Steve Palazzolo. "They had done a good job of bringing in Carl Lawson the previous year even though he got hurt. They had done a good job of adding in the trenches, but at PFF, we see a lot of numbers that say you want to have a good defensive line, but if you build from back to front and build in that secondary, that's when you take that big leap. Sauce Gardner was a big part of that."
As a rookie, Gardner, the No. 4 overall pick in 2022, was named AP Defensive Rookie of the Year while earning Pro Bowl and first-team All-Pro honors. The Cincinnati product led the NFL with 20 pass defenses, had the highest Pro Football Focus defense grade (87.9) and the highest coverage grade (90). He also had the lowest reception percentage allowed at 45.6 and his 316 yards allowed were the fewest in the NFL.
Gardner was a part of a secondary that essentially had four new starters. He started across from D.J. Reed, who was signed in the offseason along with S Jordan Whitehead. Lamarcus Joyner, the other starting safety, re-signed with the Green & White after playing just 8 snaps in 2021 (torn triceps).
"That was what the big step was," Palazzolo said. "Obviously there was help up front. Quinnen Williams taking that next step forward. It made sense to me. I wasn't predicting it, necessarily. The way the team had been built, it made sense they took that big leap as a defense."
Williams had a career-high 12 sacks, 12 tackles for loss and 28 QB hits in the 2022 season, earning first-team All-Pro and Pro Bowl honors for the first time in his career. His 90.1 PFF grade, another career-best, was the fourth-highest among interior defensive lineman in the NFL.
"The great thing for them is they have a really good defensive line," Hall of Fame CB Charles Woodson said. "They have guys who can pressure, not having to cover very long is a luxury for a defensive back."
NBC Sports analyst Chris Simms added: "What is there to talk about on the defense? There's not a position that you can even look at and say well, they can be a little bit better there. They kind of have everything so yes, it's time to go. Now it's get that quarterback situation because you are in a conference with Joe Burrow, Patrick Mahomes, Josh Allen and Justin Herbert and those are the four best quarterbacks in football."
The Jets, like every team in the NFL, will soon play roster gymnastics with free agency starting March 15. To stay near the top of the defensive mountain in 2023 with a schedule that includes Mahomes, Herbert, Allen, Dak Prescott and Jalen Hurts, Palazzolo says it's important to avoid a passive approach in free agency.
"I love the pieces that they do have," he said. "I think continuing to add depth along that defensive line is important in marrying pass rush and coverage. It's a pass-first league. You want to be able to stop the run and all that stuff. They have the pieces to rush the passer and to play solid coverage.
"I like the way they've been built, it's just continuing to add. Especially depth in the secondary because that's where it can fall apart really quickly."