The Jets had a short night Thursday as Mike Maccagnan & Co. selected quarterback Sam Darnold with the No. 3 overall selection. Darnold, who spoke to the media via a conference call Thursday night, will be introduced at One Jets Drive Friday afternoon.
"First, as a player, we like him from an ability standpoint," Maccagnan told reporters Thursday night. "He obviously played at a high level in terms of college, he got thrust into playing very early on. We did a lot of research on him in terms of his personality, character, intangibles, which we felt good about and then of course combine that with the player and of course he's younger. ... We feel he has a very bright future."
The former USC signal caller, who turns 21 in June, was one of five gunslingers selected in the first round, along with Baker Mayfield (Browns), Josh Allen (Bills), Josh Rosen (Cardinals) and Lamar Jackson (Ravens). 
The Green & White are slated to have one selection on Day 2, No. 72 overall, and four additional selections on Day 3. However, that could change as Maccagnan has shown he's open to moving in either direction. Last year, the Jets' architect made a franchise-high four trade-downs, but just over one month ago, he traded up three spots to the top of the draft.
"In the end, we're still doing quite a bit of work on the rest of the draft board so we intend to hopefully get good players whether it's with the picks we currently have, if we decide to trade back or potentially move up a little bit," Maccagnan said earlier this week. "That's what you're preparing for. I think with every draft, you're trying to, in essence, maximize the opportunity cost of what you can acquire.
"To me, even though we may not have the second-round picks anymore, we're still focused on trying to make sure we get a good player at three, four, five, six and seven. And if there is a way we can potentially add more picks, we'd be open to doing that. In the draft, you never really know. There may be opportunities where we decide we may want to move up and take a guy. That will work itself out as the board kind of unfolds."
Maccagnan has optimized his picks in the later rounds as 15 of his 16 drafted players from Round 3 or lower since he arrived in 2015 are still on the roster. The top players left today beginning with Round 2 include LSU RB Derrius Guice, UTEP OG Will Hernandez, South Dakota State TE Dallas Goedert, Iowa CB Josh Jackson, Texas A&M WR Christian Kirk, Colorado CB Isaiah Oliver, Boston College DL Harold Landry, SMU WR Courtland Sutton and Georgia OLB Lorenzo Carter.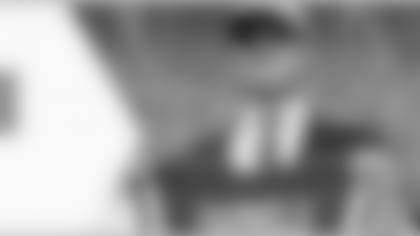 ](https://www.ticketmaster.com/venueartist/1233/805987?brand=jets&CAMEFROM=CFCNYJETSWEBNYJBUTTON6IG&ga=2.252569292.472616490.1524500418-1790986430.1510696517)