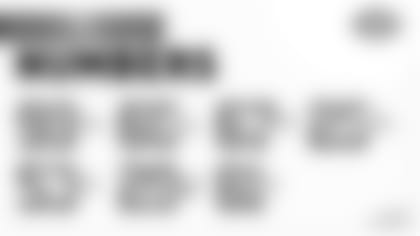 ***All Numbers Subject to Change***
The Jets have released the jersey numbers for their veteran additions and rookie minicamp.
None of the drafted rookies will wear their college numbers at rookie minicamp. DL Will McDonald IV, who wore No. 9 at Iowa State, will wear No. 99. Joe Tippmann will wear No. 66 after wearing No. 75 at Wisconsin. Carter Warren wore No. 77 in college, but he will wear No. 67. RB Israel Abanikanda's will wear No. 25 after wearing No. 2 at Pitt. LB Zaire Barnes will wear No. 53 (wore No. 3 at Western Michigan), S Jarrick Bernard Converse's No. 24 at LSU and Oklahoma State is retired by the Green & White (Darrelle Revis) and will wear No. 29. TE Zack Kuntz will wear No. 81 (wore No. 80 at Old Dominion and No. 82 at Penn State).
As noted in his press conference, new QB Aaron Rodgers will wear No. 8 with the Green & White after wearing No. 12 for the first 18 years of his career. WR Allen Lazard, who wore No. 13 with the Packers, will wear No. 10 with the Jets since 13 is a retired number for the Jets (Don Maynard). Fellow WR Mecole Hardman, who wore No. 4 at Georgia (worn by D.J. Reed) and No. 17 with the Chiefs (worn by WR Garrett Wilson) will wear No. 6. Other offensive players wearing new numbers are QB Tim Boyle (No. 7), OL Billy Turner (No. 54) and OL Trystan Colon (No. 65). Both OL Wes Schweitzer (No. 71) and WR Randall Cobb (No. 18) will keep their numbers from their previous teams.
S Chuck Clark, who wore No. 36 with the Ravens, will wear No. 23 with the Green & White. Other defensive acquisitions who will wear new numbers in their new threads include DL Quinton Jefferson (No. 93) and DL Isaiah Mack (No. 97).
P Thomas Morstead will wear No. 5.
Veterans on the Jets with new numbers are T Duane Brown (No. 71, now No. 76), K Greg Zuerlein (No. 6, now No. 9) and WR Diontae Spencer (No. 85, now No. 14).
Here are the number changes leading up to the 2023 season. (All numbers are subject to change.)
Draft Picks (Rookie Minicamp Numbers)
Table inside Article

| Player | Number |
| --- | --- |
| DL Will McDonald IV | 99 |
| C Joe Tippmann | 66 |
| T Carter Warren | 67 |
| RB Israel Abanikanda | 25 |
| LB Zaire Barnes | 53 |
| S Jarrick Bernard-Converse | 29 |
| TE Zack Kuntz | 81 |
Undrafted Free Agents (Rookie Minicamp Numbers)
Table inside Article

| Player | Number |
| --- | --- |
| DE Deslin Alexandre | 98 |
| WR Jason Brownlee | 16 |
| LB Claudin Cherelus | 41 |
| S Trey Dean | 38 |
| RB Travis Dye | 35 |
| WR Xavier Gipson | 19 |
| LB Maalik Hall | 46 |
| TE E.J. Jenkins | 49 |
| LB Caleb Johnson | 43 |
| OL Brent Laing | 63 |
| CB Derrick Langford | 36 |
| WR T.J. Luther | 85 |
| S Marquis Waters | 40 |
Table inside Article

| Player | Number |
| --- | --- |
| P Thomas Morstead | 5 |
| WR Mecole Hardman Jr. | 6 |
| QB Tim Boyle | 7 |
| QB Aaron Rodgers | 8 |
| WR Allen Lazard | 10 |
| WR Randall Cobb | 18 |
| S Chuck Clark | 23 |
| OL Billy Turner | 54 |
| OL Trystan Colon | 65 |
| OL Wes Schweitzer | 71 |
| DL Quinton Jefferson | 93 |
| DL Isaiah Mack | 97 |
Veterans with New Numbers
Table inside Article

| Player | Number |
| --- | --- |
| K Greg Zeurlein | 9 |
| WR Diontae Spencer | 14 |
| T Duane Brown | 76 |
Table inside Article

| Player | Number |
| --- | --- |
| QB Chris Streveler | 15 |
| DB Craig James | 31 |
| DB Jimmy Moreland | 33 |
| DL Marquiss Spencer | 51 |
| LB Chazz Surratt | 55 |
| OL Chris Glaser | 64 |
| WR Malik Taylor | 86 |