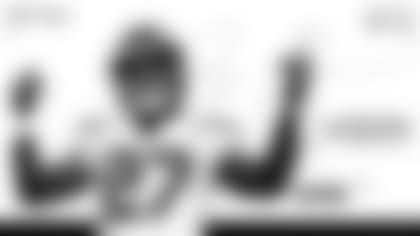 Jets RB Zonovan "Bam" Knight was named the NFL's Pepsi Zero Sugar Rookie of the Week after his standout rushing performance on the road against the Bills in Week 14.
In a 20-12 loss to Buffalo at Highmark Stadium last Sunday, Knight rushed for 71 yards on 17 attempts and scored on a 13-yard touchdown run for his first NFL TD. In his second career start and his third appearance, Knight has gone over 75 yards from scrimmage in each game.
"He's a good back," head coach Robert Saleh said. "He's explosive and runs hard. If he sees a crease, he can hit it. He gets vertical pretty quickly. As violently as he runs, he's — knock on wood, I don't want to jinx him — but he's been good with ball protection and security. So, he's a good one."
Trailing by 7, the Jets drove 72 yards in 10 plays on the first drive of the third quarter, capped by Knight's touchdown run. The N.C. State product rushed for 28 yards and averaged 4.7 yards per rush in the third quarter.
"We came out and ran the same plays," Knight said. "It was just better execution. They told us we have to go out here and keep executing. The line had to be better on its blocks, the running backs had to be better on their reads/keys. Everybody just had to be better overall. We took to that to heart and went out there and executed."
Knight made the initial 53-man roster following the final training camp cuts in August, was released on Sept. 5, signed to the practice squad on Sept. 6 and signed to the active roster on Oct. 25 after rookie RB Breece Hall sustained a torn ACL.
Since earning an opportunity Knight has produced 298 yards from scrimmage, the most by any rookie this season over their first three games, and averaged 99.3 yards per game, 10 yards higher than the next best.
"Bam, what he's shown is that he's got juice," Saleh said. He added: "He runs with a physical mindset. He's hungry. He's young. He runs violently. When he turns a corner and sticks his foot in the ground, it's special."
Knight is the fourth Jets player to win the rookie award this season and the second running back. RB Breece Hall won in Weeks 4 and 6; WR Garrett Wilson has won 4 times in Weeks 2, 8, 9 and 13; and CB Sauce Gardner won in Weeks 5, 7 and 9.
A Jets rookie has won the Pepsi Zero Sugar Award 10-of-14 weeks including 9 of the last 11 and 6 times in a row from Weeks 4 to 9.