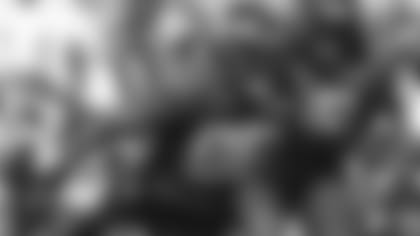 Ty Montgomery wants the world to know that he's still got it. After suffering multiple injuries during his time at Green Bay and Baltimore from 2015-18 that restricted his playing time, the fifth-year veteran is ready to prove his value once again.
"I'm going to continue to get comfortable every single year. One thing I don't want people to forget is that I'm good at what I do, I just got hurt in the past seasons," Montgomery said. "I just got hurt so when I'm not on the field, you're not able to see what I can do. But I feel like I've shown that when I'm on the field, I'm a very efficient football player."
The 6'0", 216-pound hybrid initially began his career as a wide receiver—which is the position he played at Stanford—but quickly converted to running back following his 2015 rookie season. Since the switch, Montgomery has succeeded as a dual threat in the offense, rushing for 932 yards and seven touchdowns while also catching 107 passes for 892 yards and three TDs.
He expects this season to be no different in terms of how his skillset will be utilized.
"I can tell in this offense the backs are going to be used a lot. We're going to be asked to run the ball, catch the ball, protect the quarterback, and we're going to be asked to be lined up all over the field," said Montgomery. "I think it's very useful, it creates mismatches and I think that it fits within this attack offense that we're running right now."
Head coach Adam Gase, who calls the plays for the offense, has not only utilized Montgomery but also the rest of the running back group that presents extremely versatile threats in both the run and passing game. One of the leaders at this position is sixth-year veteran Le'Veon Bell, who has had two seasons with 80 or more receptions. Montgomery thinks both he and Bell can be dangerous on the field together.
"I think that's one of the beauties and one of the reasons why I signed with this offense because it's an offense that is built around a guy like Le'Veon who can do what he can do," said Montgomery. "At the same time, I'm a very versatile guy and I can do what I can do. I think it helps when I'm in the game, or we're both in the game at the same time, the offense shouldn't skip a beat. The offense shouldn't feel that much different, it should still be an attack offense. The running backs should still be explosive where they're running the ball or running a route and catching the ball."