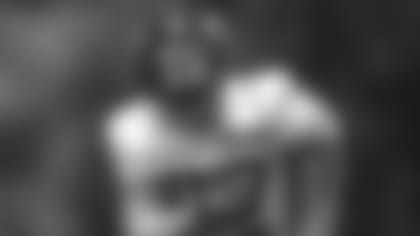 For some fans, the Jets' signing of Tevin Coleman in March was a ho-hum event, bringing in an almostthirtysomething running back coming off his lowest production as a pro in 2020 due to multiple physical ailments.
For others, it was a smart pickup. They saw some interesting things from Coleman's first five seasons in the NFL, his decent production as a rotational back, his speed, his hands out of the backfield.
Not surprisingly, Coleman (who just turned 28 in April) sides with the latter group.
"I feel like I've got a lot left in my tank," Coleman told Jets reporters this week. "I'm a fast guy, I'm a strong guy, I'm big, so I've definitely got a lot in my tank to prove myself."
One person Coleman doesn't have to prove himself to is Robert Saleh, who spent the previous two seasons coordinating San Francisco's defense while Coleman ran, caught and blocked on the 49ers' offense. In keeping with his fast-car analogies, Saleh, now Coleman's head coach, saw a lot to like from the Midwest man who played his high school ball in Illinois and his college ball at Indiana.
"Tevin, he's pure gas," Saleh said. "He's got tremendous speed, he's got a tremendous mindset when the ball is in his hands in terms of breaking tackles, falling forward, creating positive yardage. And his leadership, his on-the-field demeanor, his practice habits — he represents what we covet. To have him here, especially since we do have a very young backfield, is awesome."
Coleman is well aware of what it means that he's one of the few veteran 49ers to drive to the Jets via the free agency road this offseason.
"It's definitely big and I'm glad that he did pick me to have that role and get some of the young guys right in how we practice, how we do things and what the standard is," he said. "I'm getting those young dudes right right now, trying to get 'em right with the standard and right with how to practice and how Robert wants things."
How the Jets' (mostly) young RB room gets to split up the reps, in next week's mandatory full-squad minicamp, in training camp, and in the preseason and regular-season games ahead, has yet to be determined. Ty Johnson, Josh Adams and La'Mical Perine each showed flashes last season on the Jets, and then the Green & White added North Carolina RB Michael Carter in the draft and acquired another player on waivers with some SF/Saleh experience in first-year man Austin Walter.
Coleman deflected questions about him being the Jets' new bellcow back or even the first out of the gate in an RB-by-committee approach this season. But he has the experience and production to stake his claim when it's time. He's got healthy career averages of 4.2 yards/carry and 10.5 yards/catch and has scored 36 touchdowns (24 rushing, 12 receiving). And he says he's "back to 100 percent" healthwise.
"It really doesn't matter to me," he said of his role with the Jets in 2021. "Whatever they want to do with me, wherever they put me on the field, I'm a baller. I'm going to do my job, go out there and make plays."