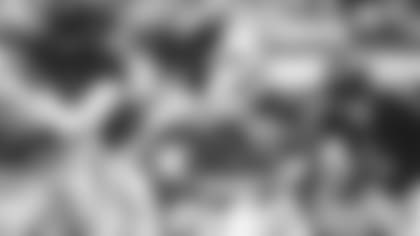 Thoughtful and direct, Jets' second-year RB Michael Carter is one of the team's young leaders who is tuned in to the challenges being faced by his even less-experienced teammates. It's a rookie group that experienced its baptism of fire in last week's season-opening loss to Baltimore.
On offense, that group includes Carter's backfield running mate Breece Hall, wide receiver Garrett Wilson and tackle Max Mitchell.
"It was really cool," Carter said about the play of those rooks. "And one thing I want to say about Garrett is that he came from a school [Ohio State] where he got the ball a lot and also Breece [Iowa State], and so I think that the transition is you have to do your best with the ball when you get it. You don't get as many chances in the pros as you did in college."
Carter learned the value of waiting his turn and then taking advantage when he shared the ball at North Carolina with RBs Javonte Williams and Antonio Williams in a three-man rotation.
"Every running back's excuse is they need to get in a rhythm," Carter said. "Look man, you might not get that, and now what? Go make the play. And I think they have both come in with the mindset of 'I have just got to do what I got to do when I get the rock' and it has helped them a lot. And you see they both had pretty good first games."
Carter also had a pretty good game in Week 1, overall, when he averaged 6 yards per carry, the second-best mark of his career (minimum 10 carries). He ran for 60 of the team's 83 yards (50+ in the first half) -- Hall had the rest -- and accounted for 100 scrimmage yards for the fourth time in his career. Those stats, however, don't include Carter's late drop of a Joe Flacco fourth-down pass in the end zone that ended a 16-play drive with a little more than four minutes left in the game. Earlier in the fourth quarter, Hall, who prides himself on protecting the ball (he fumbled three times in 800 touches in college), was blindsided and had the ball punched out by Baltimore's Chuck Clark.
"I do want to catch that ball every time, and I am going to, I am confident in my abilities, my confidence is through the roof," Carter said of his drop. "I always feel good about it. Things happen, that is life, but I need to be held responsible."
On Hall's fumble, Carter added: "That fumble was probably a fluke because he doesn't fumble. You ask him about his ball security, and it means a lot to him. It is always the person you don't see, and he knows that. He has played for a long time, and he knows that. And he has got to fix it, and he is going to fix it."
Each of the Jets' six 2022 draft picks (Wilson, Hall and Mitchell on offense; and top pick Sauce Gardner, Jermaine Johnson and Micheal Clemons on defense) got significant snaps in their NFL debuts. They each showed encouraging promise, and combined with the second-year players like Carter, Michael Carter II, Alijah Vera-Tucker and Elijah Moore. Head coach Robert Saleh is convinced the Green & White is on the cusp of good things. And this week the coach said he's holding the "receipts" of outside doubters. His comments drew reactions from around the league and myriad commentators. The message, however, resonated with the locker room and with Carter.
"I love what Saleh said, it turns me up because I am so petty," Carter said. "Oh my gosh I am so petty. I was on Instagram, and I just got my look up from 2010, I don't forget anything. I love it man. We are all going to get this thing going and when we do, there are going to be a lot of other people on the other side."