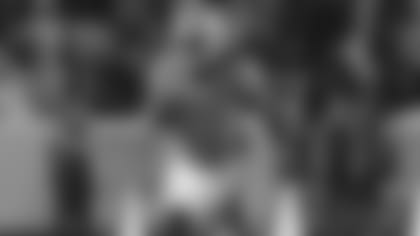 Michael Carter oozes confidence.
"I should have gone yesterday," said the running back out of North Carolina selected by the Jets No. 107 overall on Saturday on the third and final day of the 2021 NFL Draft. "But good things come to those who wait. I'm happy to be a Jet."
The selection of Carter was the fourth offensive player the Jets selected before the team tabbed Auburn linebacker Jamien Sherwood early in the fifth round.
Carter (5-8, 200) stood tall as the starter for the Tar Heels and served as a team captain last season as a senior. He had 1,000 rushing yards for the second straight season, finishing with 1,245 yards on 156 carries (8 yards/carry) and 9 touchdowns, and added 267 yards and 2 more TDs on 25 catches (10.7 yards/catch).
He has an explosive running style and shared rushing duties at UNC with Javonte Williams, who was drafted by Denver. Carter has often spoken about the desire to be a featured running back, but in the offense preferred by HC Robert Saleh and offensive coordinator Mike LaFleur it's running back by committee.
"Sure I'd like to be the featured back, but first I have to get to the building and work hard every day, earn respect from my teammates," he said in a Zoom call from his home in Navarre, FL. "I earn respect by the way I work. It's not what I say, it's what I do."
In the 2020 season, Carter and Williams combined for 2,385 yards and 28 touchdowns on 313 attempts. They also split 50 receptions out of the backfield for 572 total yards and 5 TDs. In a 62-26 win against Miami, Carter and Williams broke the NCAA record for total rushing yards between two running backs in a game. Williams had 236 yards and three scores on 23 attempts, while Carter broke the 300-yard mark, amassing 308 yards and two scores on 24 carries.
"My style? Explosive. Fun," Carter said. "I'm fun to watch. I like to try and score every time I carry the rock. I like to have fun when I play football. It's a game, a fun game. I'm just excited to go run in the NFL."
One criticism of Carter, if it qualifies as such, is that his size raises questions about his ability and desire to stick a bigger and stronger defender when in pass protection.
"I really think it's a strength of my game," he said. "I will put my nose in there and block, I'm not scared of anybody. I have good technique, that's something I want to keep getting better at. I'm just excited to prove myself, kind of like starting over. I'm excited to go there and prove it all over again."
Carter has seen time the past two seasons as a kick returner for the Tar Heels. He could give the Jets additional options at returner along with Elijah Moore, the receiver the Jets drafted in the second round on Friday.
"I've been returning kicks all my life," he said. "I did in college last two years. I don't know what future has in store, but I'm sure the Jets have a good plan for me."