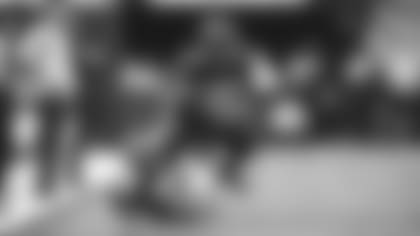 The Jets rode the Michael Carter train on Sunday, and rode him and rode him -- on the ground and through the air.
The workhorse rookie running back from North Carolina was superlative when the Jets (2-5) upset the Cincinnati Bengals, 34-31, at MetLife Stadium on Sunday afternoon. The fourth-round pick rushed 15 times for 77 yards, including a TD on the game's opening drive. He was also targeted 14 times by quarterback Mike White, catching 9 passes for 95 yards.
It was Carter's second consecutive game with more than 100 total yards from scrimmage after he amassed 104 in last week's loss at New England. His TD to open the game, completing a 10-play, 79-yard drive that burned 6:22 off the clock came after Jets head coach Robert Saleh decided to go against previous practice and take the ball after winning the coin toss.
"It was a big deal," Carter said of the opening drive. "I feel like the way the crowd was rocking early, it took us through the game. This week more than anything was just chill out and execute."
Speaking about rebounding after last week's crushing loss at New England, he said: "We know that's not us as a team, so we decided this week to come out and say less, not talk too much, just get the job done. We decided it was us versus us today."
Carter's TD -- his third of the season -- provided the Jets with their first points in the first quarter through seven games and was the first time this season the Green & White held a lead in the first half. In the end, the Jets racked up more than 30 points in a game for the first time in the 2021 NFL season.
"Michael Carter is hard to tackle," Saleh said after the Jets earned their second home victory of the season.
Speaking about the play of Carter and his fellow rookie, WR Elijah Moore (6 catches for 67 yards), Saleh said: "They were awesome. They're going to have things to grow off. We got the ball in their hands and let them go make plays, they both have dynamic playmaking ability. As I said, Carter has been hard to tackle all season. He made some big plays."
Carter has emerged as a juggernaut in the backfield. His percentage of snaps on offense have gradually increased, from a mere 25% in Week 1 to 72% against Cincinnati.
His strength, balance and low center of gravity (not to mention his immense, powerful thighs) help him fight off initial hits and gain yards after contact. Asked by reporters about that ability he said with a smile: "I don't know where it comes from, and I wouldn't tell you if I did."
Keep in mind that none of Carter's touches -- either rushing or receiving -- were eye-popping chunk plays. His longest run went for 18 yards; his longest reception for 23. He ground it out and No. 32 earned every single yard.
Coming into Sunday's game, Carter had rushed for a total of 202 yards, with his previous season high of 59 yards in the Week 2 loss to the Patriots. Likewise, he had just 17 receptions for 131 yards.
"As a receiver, when the ball came to me I just tried to make a play," he said. "You can't tense up in this league. I just made the plays like I know how."
In no uncertain terms, the game against the Bengals (5-3) was his breakout, statement game. The Jets can only hope there are more, a lot more to come.
Finally, Carter had a simple assessment.
"It was a good day," said.