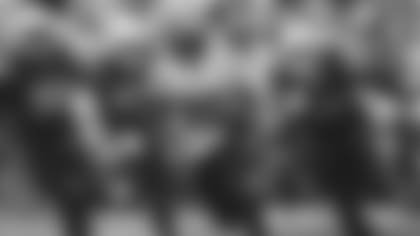 Jets OC Mike LaFleur has talked about his goal of overseeing a balanced offense. But in Green Bay on Sunday, the Jets rode a dominant run game featuring rookie RB Breece Hall in a 27-10 win over the Packers.
The Jets did not throw a pass in the fourth quarter – they threw 18 times total – and leaned on Hall, who ran for 57 yards (8.1 yards per carry) and a touchdown in the final period as the Jets knocked off the Packers at Lambeau Field.
"Yeah, we have got it nice," QB Zach Wilson said about Hall. "I mean, of course, you'd like to be balanced with some games like this. We knew going into this game these guys were great in the secondary, we knew we needed to be able to run the ball."
Hall eclipsed 100 yards rushing for the first time in his NFL career, finishing with 116.
"A lot of people came into the game expecting that it would be a surprise if we won," Hall said. "But we expect to win."
The first half was a grind for both teams ending, 3-3. Hall and his run blockers were steady, with 55 yards on 10 carries (5.5 yards per carry).
"We just felt like we were in a good position [after the first half[," Hall said. "But we felt like we could've put ourselves in an even better position."
Hall's 34-yard TD run, on a play that was designed to be a reverse pass, put the Jets ahead by 24-10. He took a handoff from QB Zach Wilson and elected not to pitch the ball after seeing the defensive end had overrun the play. He instead cut up field and headed for the end zone.
"It was supposed to be a reverse pass," Hall said. "So, I was supposed to pitch it to Garrett [Wilson]. "But I felt the defensive end was too far upfield, so I couldn't get the pitch off. I just saw daylight and allowed my natural ability to take over."
After the score, he located a small crowd of Jets fans and took a "Lambeau Leap" into the stands.
"Before the game, we were like, whichever one of us scored, we got to do the Lambeau Leap," Hall said. "Braxton [Berrios] got the first one, but I don't think there were any Jets fans on that side that he scored on. So, when I scored, I had to do it."
Over the final minutes, Hall and RB Michael Carter continued the "relentless" attack. Hall rushed for 29 yards on 6 carries and Carter added 36 yards on 4 attempts as the Jets killed the game. In the game, the Jets ran for a season-high 179 yards as QB Zach Wilson played a game manager role, connecting on 10 of 18 for 110 yards.
"All we got to do is watch the film and just know we play relentless football," Hall said. "And we always play hard, and we never give up. So, we're trying to keep that culture going."
The Jets improved to 4-0 when Hall scores a touchdown and leaned on him for the second consecutive week after he had 197 all-purpose yards and a touchdown last week against Miami. Over the last two weeks, Hall has 42 touches, 319 yards and 2 touchdowns.
"Today just showed how hungry we are," Hall said. "I think it just shows that we're trending upward. You know, we played good football today, but we're not satisfied."