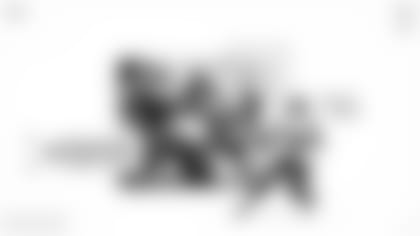 Jets RB Breece Hall was named the NFL's Pepsi Zero Sugar Rookie of the Week for Week 4 after helping lift the Jets to a 24-20 victory at Pittsburgh last week.
Hall (6-1, 220) scored a 2-yard rushing touchdown with 16 seconds remaining in the fourth quarter to give the Green & White a second consecutive road victory. Hall slipped a tackle from Steelers LB Myles Jack, stretched out his left arm and broke the plane of the goal line for his first NFL rushing score.
"I knew coaches that once we got inside the 10-yard line they were going to put the ball in my hands," Hall said. "Or at least three out of the four plays we had. It just shows the trust they had in me, and I knew I was going to get in the end zone.
"It was a punch play, so they were having hard double teams on the D-linemen. So, if the linebacker shot, he was going to come free and he did that. So, I just gave him a little sidestep and he slipped off and I was able to reach the ball across."
A second-round pick in April's NFL Draft (No. 36) out of Iowa State, Hall rushed for a career-high 66 yards on 17 attempts and caught 2 passes for 12 yards.
"I loved his running style," HC Robert Saleh said. "We've been talking about NFL running and making DBs tackle you and there are about five or six occasions where he put his shoulder right into their sternum and ran some people over, moved piles, the run to get to the 2-yard line had big contact at the 5 and pushed forward to the 2. Same thing at the goal line."
For the season, he has rushed for 178 yards – second-most among rookies – and has 15 receptions – fifth most among rookies. Saleh has been impressed with how Hall's rushing style has progressed.
"His running style, that's the biggest thing that he's improved on from Week 1 to 4," Saleh said. "And hopefully he continues moving forward just to show how powerful of a runner he is and you're mixing that with his illusiveness and the speed, good luck."
Hall scored a touchdown in each of his first two NFL road games including in Week 2 against Cleveland. Hall caught a pass on a wheel route from QB Joe Flacco and jogged in for the score. He joins WR Garrett Wilson as the second Jets player to win the award this season. Wilson won the award in Week 2 after catching two touchdown passes – including the game-winner at Cleveland.