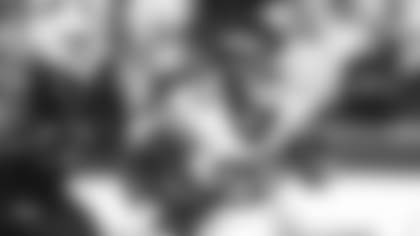 Jets RB Breece Hall saw his first game action in 319 days on Monday, and picked up where he left off from his rookie season that was cut short because of an ACL injury. Hall had 10 carries for 127 yards and 1 reception for 20 yards in the Jets' 22-16 Week 1 overtime victory against the Bills at MetLife Stadium.
"Once I got on the field, I knew I was still that dude," Hall said. "Anytime I touch the ball, I can do whatever I want with it. I have always had that mentality. I was just happy the coaches stuck with me today."
HC Robert Saleh added: "He is so slippery. He is deceptively slippery."
As a rookie, Hall led the Green & White with 463 rushing yards and 4 touchdowns. He also had 19 receptions, 218 yards and 1 touchdown. The Iowa State product, drafted in the second round, missed the last 10 games of the 2022 season.
On the Jets' first play from scrimmage Monday, Hall took a handoff from QB Aaron Rodgers, made Bills edge rusher Leonard Floyd miss and accelerated to the second level for a 26-yard gain. It was Hall's only touch of the first quarter.
"The coaches told me before the game I would be on a pitch count," he said. "But I told them I know I am on pitch count, but if I have to roll with it, I will."
In the second quarter, after the first of three interceptions by S Jordan Whitehead, the Jets gave the ball to Hall, who broke free for a career-long 83-yard run. Bills CB Christian Benford forced him out at the 13-yard line and Greg Zuerlein capped the drive with a 26-yard field goal to tie the game 3-3.
Hall reached 20.54 miles per hour on the carry per Next Gen Stats, the third-fastest of his career, and it was the longest Jets run since 1994. At the end of the first half, Hall had 2 carries for 109 yards.
"Breece looked good," Saleh said. "I am going to mess with him a little bit for getting caught on that long one. He is still getting his legs back. But he still has such great vision and burst."
Hall said: "I hadn't played in a year, and I got tired bro. He caught me, but I won't get caught again."
On the Jets' first drive of the second half, Hall caught a short screen pass from QB Zach Wilson, who replaced Rodgers, and ran 20 yards for a first down. The catch eventually led to a 43-yard field goal to cut Buffalo's lead to 13-6.
The Jets lost Rodgers early to an apparent Achilles tendon injury and leaned on Hall and RB Dalvin Cook in the fourth quarter as the duo had 9 of their 23 carries in the final frame. Cook had 13 carries for 33 yards in his first game in green and white and combined with Hall for 160 yards on the ground as the team ran for 172 yards on 28 attempts (6.1 yards per carry).
"I am excited for him," Saleh said of Hall. "He had a couple of great runs and a big screen. He is only going to get bigger and better and stronger. I thought Dalvin was really good, too."
At the conclusion of the Week 1 slate, Hall ranks second in rush yards behind 49ers RB Christian McCaffrey (152). Hall averaged 12.7 yards per carry and was the only player in Week 1 to run for more than 60 yards with 10 touches or less.