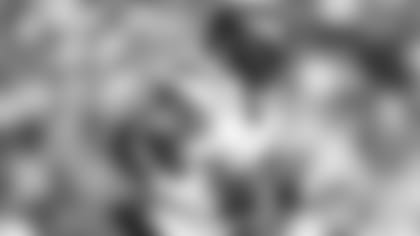 Over the first four weeks of the season, Jets RB Breece Hall played on a limited snap count as he continued to rehab from a torn ACL he suffered in Week 7 last season. Head coach Robert Saleh told reporters prior to the Denver game that Hall was no longer on a pitch count, and after touching the ball a career-high 25 times in Week 5, he is ready for more.
"The workload you get during the rehab process is a lot more than what you get in the game," Hall said. "I have gone through days where I have done way more just through rehab doing stuff on my knee than in the game. So, when I got back to the game, I was ready for work and excited to be doing whatever I can to help get wins."
Hall has elevated his game the last two weeks against the defending Super Bowl champion Chiefs (Wk. 4) and Broncos while averaging 8.3 yards per attempt. In the Jets' 31-21 win over the Broncos, Hall ran for a career-high 177 yards on 22 attempts and a 72-yard touchdown.
Against the Broncos, the Jets ran for a season-high 234 yards. And despite Hall's individual success, he attributed the recent tempo he's found to the rest of the offense.
"For running backs, getting in a rhythm has to do with if the O-Line is in a rhythm," Hall said. "Usually, a running back is only running the ball well when the O-Line is blocking well, and tight ends are blocking well, and receivers are blocking well. At that point, it's about the whole offense being in rhythm."
Feeding Hall has been a Jets' key to victory. Since he entered the league in 2022, in games Hall gets at least 15 carries, the Jets are 4-0. And this season, Hall has averaged 152.0 rush yards per game in the team's pair of victories.
The Green & White will need similar production from the second-year tailback in Week 6 against the Eagles' vaunted defensive front. Philadelphia has allowed 61.2 rush yards per game in 2023, the fewest in the NFL, and just 2 rushing touchdowns season.
Eagles OLB Nicholas Morrow leads the team with 3.5 sacks, 6 tackles for loss and two forced safeties while DL Jalen Carter, the No. 9 selection in April's NFL Draft, has racked up 3.5 sacks, two forced fumbles and 12 tackles while playing just 51% of the Eagles' defensive plays over five games.
"Their front is very similar to ours," HC Robert Saleh said. "They come at you in waves. They're very talented, they're very aggressive, they're violent, and they're sound on the back end. So, it's a challenge."
Off to a 5-0 start, the Eagles defense saw both DT Fletcher Cox (back) and LB Nakobe Dean (foot) return to practice on a limited basis Wednesday. But coming off a career game, Hall's lone concern is helping the Jets move to 3-3 heading into their bye week.
"Every game you are coming out looking to win," Hall said. "Just because they are undefeated, that doesn't play a factor. We are motivated to win, and we want it no matter who we are playing."