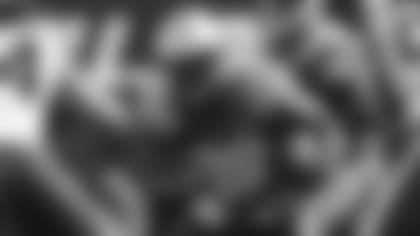 The Jets placed running back Bilal Powell on Injured Reserve Wednesday morning with a neck injury that head coach Todd Bowles said requires surgery.
Powell's injury is similar to the bulging disc that sidelined wide receiver Quincy Enunwa for the entirety of 2017, but the eighth-year back's injury is worse.
"It's not the first time it's come up," Bowles said. "It's been a recurring injury and this time it happened to be bad."
Powell suffered the injury with 5:32 remaining in the first half against the Vikings when he collided with linebacker Anthony Barr. The 5'10", 204-pounder finished the game with 20 yards on five carries. For the season, Powell totaled 343 rushing yards on 80 carries (4.3 yards per attempt) and he also tallied 11 receptions for 110 yards and one score.
"Bilal is one of the hardest workers on the team," Bowles said. "It's a big blow from that standpoint, but you worry more about the person healing than you do the football player, so that's where we're at."
Last week, rookie running back Trenton Cannon played in Powell's place and led the Jets with 69 receiving yards on four catches, one of which came on a 35-yard wheel route. A seventh-round pick in 2018, Cannon only rushed the ball twice, but has electric speed and could be in line for a larger workload this Sunday against the Bears.
Second-year running back Eli McGuire returned to practice last week from a foot injury that placed him on IR after the first practice of training camp. However, McGuire, who totaled 492 scrimmage yards as a rookie, is not eligible to return to the 53-man roster until next week.
"Right now, we're okay," Bowles said. "We'll look to work somebody out and bring them in or bring someone up from the practice squad. We'll look at both."