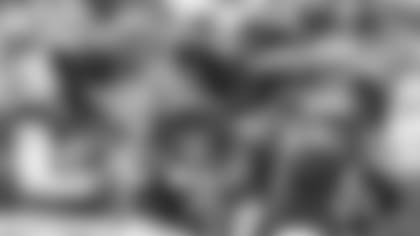 The Jets and Ravens will get their 2022 NFL parties started against each other at MetLife Stadium on Sunday afternoon. But before they kick it off on Sept. 11, the game and the season will get a serious and melodious intro.
MetLife spectators are advised to be in their seats early as the Jets are asking all fans to loudly sing the National Anthem on the 21st anniversary of the terrorist attacks on the United States. Fans singing the Anthem on Sunday, led by NYPD officer Brianna Fernandez, will be part of the live broadcast on CBS that day and will help create a new tradition for everyone attending Green & White games going forward.
Then "from the home of the brave," it's on to football.
Start Fast, Finish Faster
The Jets from 2011-15 were 5-0 in season openers. That was in part because all five games were at home, starting with the Sept. 11, 2011, comeback win over Dallas. Since then, it's been a struggle as the Green & White have gone 1-5 in home openers from 2016-21. Robert Saleh's first season opener as Jets HC was the 19-14 loss at Carolina. His first home opener was the 25-6 defeat at the Patriots' hands in Week 2.
The aim is to win openers, to win home games ... to win. And Saleh said a big part of that is the way the Jets start and finish, which his staff has been stressing since the end of last season.
"Games that we started fast, like Cincinnati, we were able to go blow for blow," he said of last season's rocking 34-31 home win over the Bengals, who went on to rep the AFC in the Super Bowl. "Tennessee, we started pretty fast, defensively anyway. It is a challenge because you want to start fast, but at the same time, keep the main thing the main thing. It's not always about how you start, it's about how you finish, so there's a global part to starting fast, finishing faster and those are things we've been focusing on this year."
Protect the QB
Joe Flacco will get the Jets' first three starts before Zach Wilson returns from knee rehab. Flacco has the respect of his teammates and coaches and has strong production in openers he's been a part of, mostly with the Ravens from 2008-18. He admits to probably feeling some extra juice going up against his former team. But for him to continue that opening-day trend that the Jets need, he'll need protection.
The line looks like a strong one on paper — from LT to RT, Duane Brown, Laken Tomlinson, Connor McGovern, Alijah Vera-Tucker and George Fant. Brown is a five-time Pro Bowl selection, most recently last year with Seattle. Tomlinson is coming off his first all-star season with San Francisco. If those two start eight games alongside each other, it will be the first time the Jets OL has had two Pro Bowlers with that many starts together since D'Brickashaw Ferguson and Nick Mangold started 15 of 16 in 2015.
Yet the starting five played only 21 snaps as a unit in the preseason, all in the finale vs. the Giants. And the tackles were shaken up this week as Brown (shoulder) will sit out the game, Fant will return to LT and rookie Max Mitchell will step up and step in at RT. A tough development for Flacco and the offense but as Saleh said, "It's next man up and we've got to roll."
Time for Skill to Thrill
It's time to see how good the Jets' offense under coordinator Mike LaFleur and with talent new and old can be, whether it's Flacco or Zach Wilson or Mike White under center. The top three WRs — healthy again veteran Corey Davis, exciting second-year man Elijah Moore and rookie go-up-and-grab-it Garrett Wilson — look extremely promising, not to mention Braxton Berrios adding his versatility to the mix. Tight ends, led by Tyler Conklin and C.J. Uzomah, we've heard about. RBs should be fine with second-year man Michael Carter, second-round rookie Breece Hall and third-down back Ty Johnson manning the fort.
"I'm very pleased, even with the young guys, with just how far along they are with the scheme and all that," LaFleur said during camp of the players in his system in year two. "We have a long way to go from an execution standpoint, but the knowledge of it is huge." Time for the Jets to put some execution together with some knowledge and gain some yardage against a Ravens defense that was last in the NFL last year in allowing 5.98 yards/play.
Step Forward, Front Seven
The Jets ranked low in many defensive categories, especially vs. the run. This could be a game to show they've improved in that area. C.J. Mosley, a former Raven himself, returns off of his career-high 168-tackle campaign and the front seven has been fortified with the returns of, among others, Quinnen Williams and John Franklin-Myers and the imports from the 49ers of hard-hitting LB Kwon Alexander and scheme-savvy DL Solomon Thomas. And they'll have a chance to blunt the Birds' running attack since J.K. Dobbins, who missed all last season with an ACL tear, is limited in practice this week with his lingering knee issues, while Gus Edwards will miss the first month.
Of course, QB Lamar Jackson is also the Baltimore running game, seeing how he's led the Ravens in rushing yards the past three seasons. His No. 1 target, TE Mark Andrews, is fine, and despite last year's ankle injury, his explosiveness and elusiveness are superb. Yet Jackson was sacked once every 11.1 dropbacks last year, fourth-highest average in the league, and threw picks at a 3.4% rate, fifth-highest. Such numbers are music to the ears of the Jets' revamped edge-rushing crew featuring Carl Lawson, JFM, rookies Jermaine Johnson and Michael Clemons, and veterans Jacob Martin and Bryce Huff.
Special Occasion
Some NFL games feature special teams more than others. This is one where the specialists could have a huge say in which team wins its opener. Greg "Legatron" Zuerlein secured the Jets' placekicking job and has a decade of big-leg performance to fall back on so he should be fine. But no kicker is finer than Justin Tucker, who holds the NFL record for best career field goal rate (91.1%) and last September nailed the longest FG in league history, a 66-yarder, at Detroit.
Then there are the returners, two of the best in pro football in 2021. Berrios was named first-team All-Pro after he led all NFL qualifying kickoff returners (30.4 yards/return) and was second among all punt returners with at least 15 returns (13.4). Who was the best PR in the league? The Ravens' Devin Duvernay at 13.8 yards/return. In KO returns, Duvernay was seventh among qualifiers at 24.1, not Honey-Nut good but not bad.
It is easy to see a great kick return followed by a long field goal pulling the victory out for either side in this one.
See the top practice images leading up to the first game of the 2022 season against the Baltimore Ravens.