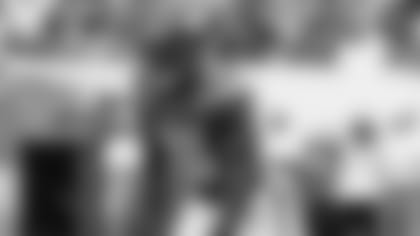 Jets fifth-year WR Quincy Enunwa will miss the remainder of the 2019 season with a neck injury.
Enunwa was injured during the Jets' season opener against the Buffalo Bills on Sunday. He was listed on the official play-by-play as suffering an injury with six minutes left in the first quarter on a running play by Le'Veon Bell. But he played most of the game, logging 66 of the Jets' 72 offensive plays, catching a pass for 8 yards and being involved in the Jets' final play of the game (a lateral from Robby Anderson that he fumbled, which gave him minus-12 receiving yards without a catch).
Head coach Adam Gase said the Jets "found out the next day after the game" about Enunwa's injury when he informed the team he "didn't feel right after the game." The team placed him on Injured Reserve late this afternoon.
"You lose a starter, you lose a guy who's a veteran player that's been through a lot, that's done a lot of good things," Gase said of what the loss of Enunwa means to the offense and the team. "He's done everything you can possibly ask a guy to do. He tries to do everything right. He works hard, he studies, he tries to lead by example, he always speaks up when he has to. The way he plays, everything was violent and he gives everything he has.
"I feel for him, just from the aspect of what he's going through with something like this. It's not something that's easy for guys who've been doing this their whole life."
The injury was a discouraging development for the 6'2", 225-pound receiver from Nebraska, who lost his 2017 season to a neck injury suffered late in training camp, then bounced back with 38 receptions for 449 yards and a touchdown in 11 games last season.
Enunwa was the Jets' sixth-round selection (209th overall) in the 2014 draft. For his career he's played in 41 games (30 starts) and caught 119 passes for 1,617 yards (13.6 yards/catch) and five TDs. His blocking ability will be missed, as will his yards-after-catch dimension — his unofficial career average of 6.6 yards after each catch is the best among all Jets wideouts for the last 20 seasons.