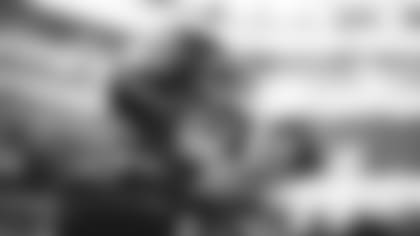 Jets quarterback Zach Wilson spent some time with a supermodel at a pregame party during Super Bowl week in Los Angeles. In some quarters that qualifies as breaking news. In other places it's seen merely as one of the perks of being a prosperous young athlete on the cusp of his second season in the NFL.
And for Wilson's mother, Lisa, an Instagram post by Cindy Crawford, 55, with her son, Dak Prescott of the Cowboys and Josh Allen of the Bills was an eye-opener. Turning the clock back to high school, Wilson's mom commented: "So my son is hanging out with my HS girl crush. I had every Seventeen magazine she graced the cover."
Wilson, the No. 2 overall pick in last year's NFL Draft, finished strong in his rookie season of professional football. Roller-coaster rookie seasons for NFL QBs are nothing new, and the BYU product certainly had his ups and downs.
"This is exactly what [Jets GM] Joe Douglas wanted," Todd McShay of ESPN said. "Wilson didn't have the best rookie season, but he knew drafting Wilson, it was going to be a three, four-year development."
With Wilson as the starter (he missed four games in the middle of the season with a sprained PCL in his right knee), the Jets had a 3-10 record as he completed 213-of-383 passing attempts (a 55.6 completion percentage). He finished with 2,334 yards, 9 TDs and 11 interceptions. He ran for 185 yards (including a scintillating 52-yard scamper against the Jaguars) and 4 TDs.
"It was impressive and it was instructive," said Ian Rapoport of NFL Network. "He started out rough and I would get texts or calls from coordinators around the league who were like, 'man, I thought this guy would be better, I'm not sure what's going on.' And then he basically took a break, he was injured [in Week 7 against the Patriots], but he basically took a break and it's incredible how helpful it is to just take a deep breath, take stock, learn, understand what's happening around you and get your feet under you. When he came back, he was much better and you could see this is the guy that they drafted."
During that four-game hiatus, Wilson was able to kick back, so to speak, and watch the Green & White's other three quarterbacks -- Mike White, Joe Flacco and Josh Johnson -- run the offense of coordinator Mike LaFleur with a bit of success and a bit of flair. He got to go to school, and when the bell rang on his "second half" of the season, things were different.
Consider that through the Jets' first six games (1-5), Wilson tossed 4 TD passes against 9 interceptions -- completing 58% of his passes. It was rough in the early going, when the offense managed only a combined 6 points (and 6 INTs) in games in Weeks 2 and 3. Wilson returned to the field in the Week 12 win at Houston, and over the final seven games of the season he tossed only 2 INTs, passed for 5 TDs, ran for 4 scores and had a 75.2 passer rating.
"His passion for the game shows every day he walks into the building," Douglas said during his season-ending news conference. "He's nonstop football, and that's what we love about him. How he's wired and how he wants to prepare, soak in as much knowledge as he can. Watching his progression throughout the year, being in less than ideal situations the back half not having all his starters at skill positions [Corey Davis, Michael Carter, Elijah Moore, Jamison Crowder, et al] and still being able to play efficient winning football and taking care of the ball ... those are really good indications."
Certainly among the highlights of Wilson's late-season surge was the Jets' 26-21 victory over Jacksonville and QB Trevor Lawrence, the No. 1 overall draft pick this past April. Then came the enervating matchup against Tom Brady and the Tampa Bay Buccaneers in Week 17 that went down to the wire before the visitors rallied for the win on the game's final drive. In that game, Wilson threw for 234 yards, 1 TD and had an 89.7 passer rating.
With eyes on Wilson's rookie season, and a peek ahead to the 2022 season, several NFL analysts and pundits weighed in:
• Mike Tannenbaum, former Jets executive and current ESPN analyst: "I thought there was improvement. And I'm sure if Zach Wilson would tell you that there were so many things he didn't know he even knew. I thought even how he comported himself at press conferences was more nuanced and enlightened as the year went on, which is a good sort of sign that there is an awareness there."
• Jim Miller, SiriusXM: "I loved Zach Wilson. I think the guy is a big play waiting to happen, very mobile, he's athletic, he has a great arm, he has a live arm. It's unfortunate that he had the knee injury that set him back a little bit, but when he got in there and played, I think you saw big-play potential. Let him get completely healthy, let him get back in the game, things started to slow down for him a little bit and I thought his play definitely improved down the stretch and I'm excited for him.
• Tom Pelissero, NFL Network: "The biggest thing with Zach Wilson is down the stretch, he played some of his best football. We've heard [HC] Robert Saleh say it a number of times, it's just do the easy stuff. We know Zach Wilson can make some freakish throws, he can throw from any arm angle, off any platform, but just be consistent with those throws in a rhythm and timing-based offense is going to be critical for his growth process."
• Daniel Jeremiah, NFL Network: "I thought there are times when you see someone struggle you think how is it going to impact his confidence. I never saw that and that's encouraging to me. Now, get the guys healthy that weren't healthy last season. Supplement that talent with free agency, trades, draft and I think you'll get a chance to see this kid take off."
See the best images of Jets Quarterbacks during the 2021 season.