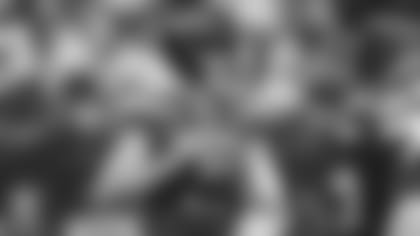 Zach Wilson is using his two games against the Patriots last season as a  lesson for Sunday's Week 3 matchup against New England.
"I just need to be smart with the ball," Wilson said. "Last time we played them at home, a lot of them were just dumb plays by me. For me, it's learning from those mistakes. We took it into the offseason as far as how can I watch this whole season [2022] and just improve and get better? I feel like I'm in a good spot. I think this team's in a really good spot. I trust the guys around me. Rely on my brothers and I think we're ready to go." 
Wilson, who threw 3 interceptions against the Pats last season at MetLife is aware of the Green & White's 14-game losing streak against their division rival, but knows there's more at stake this Sunday. The Jets would be 2-0 within the AFC East with a win.
"I think that's the biggest one, 2-0 in the division is a big focus for us," he said. "Making sure we just cherish every win because it's tough to win in this league. So, coming out here, doing our assignment, doing what we need to do and being efficient can help us do that."
One thing that will help the Jets offense is running more plays. Last week against the Cowboys, the offense ran fewer than 50 plays, converted 1 of 10 on third down and had the ball for 17:45.
"I think it starts with us as an offense entirely," Wilson said. "We have to sustain drives, we need more plays in general and we need to convert on third down. I think being able to convert on third down is where you're able to score touchdowns and extend your eyes. I think once we do that, the rest takes care of itself."
Offensive coordinator Nathaniel Hackett had the same message and knows the offense needs to be better against the Patriots.
"Everybody's workload was very low this past week," Hackett said. "I think we had a total of 49 watchable plays, and I think we had two false starts, too, so we just didn't have a lot of plays. That hurts us because we can't get a lot of people involved. There were a lot of people that we wanted to get featured and going on early but if you don't convert on third down, especially those that are down and manageable, you're not going to have those opportunities."
With Aaron Rodgers out for the rest of the season and, at present, no addition in the QB room, it's Wilson's team, as HC Robert Saleh said recently.
"I'm the guy right now," said Wilson, who has thrown for 310 yards, 2 touchdowns and 3 interceptions in two games. "My number's called and so I'm going to go ahead and do everything I can for this offense. Right now, I got all the guys in the locker room behind me and I just have to lay my trust in those guys and go play football."