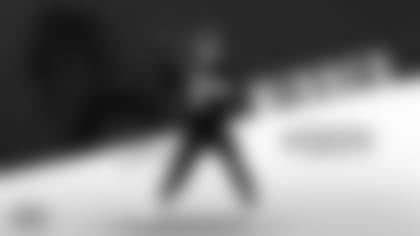 Jets QB Zach Wilson won the Pepsi Zero Sugar Rookie of the Week in Week 16, making it the third time he's won the award this season. The championship belt has been sent to the Atlantic Health Jets Training Center in back-to-back weeks after CB Brandin Echols won the award in Week 15.
Wilson (6-2, 214) had 91 rushing yards, the most by a Jets QB in franchise history, including a 52-yard rushing touchdown where he faked out of a pair of Jaguars defenders. It was the longest run by a QB in franchise history. He also completed 14-of-22 passes for 102 yards and 1 touchdown for a quarterback rating of 89.6. He led the NFL in ESPN's QBR in Week 16 with a 92.4 rating.
"It was the longest touchdown run in probably my whole life," he said. "It's kind of ironic how it works out in the NFL, but they brought man pressure right there, I had a couple options. I thought the pocket was kind of closing, tried to step up and found a lane. Fortunately we had all of our routes going opposite of where I got out and everyone was in man and there was just no one left in front of me. Once I got to the sideline I was planning on just stepping out of bounds and he didn't hit me or push me or whatever, so I held onto the sideline and kept going right there and then by that point I knew there was really no one left so I just tried to cut back and tried to make a play. Fortunately we got one out of it so it was good."
HC Robert Saleh added: "Zach's decision making has been fantastic. His off-schedule stuff, he's starting to look natural. I mean, shoot, he finally pump faked a defender and ran around him for a big chunk of yards to just show the natural playmaking ability where he finally looked a little bit loose [Sunday] in terms of running with a purpose, not running just to run. He's coming along, he's getting more comfortable, he's calmer back there. Like I said, he's in a great headspace and it's going to be fun to watch him continue to grow."
Wilson, along with fellow rookie RB Michael Carter, was a key part of the offense's success on the ground. The team's 273 rushing yards was the most in the NFL in Week 16 and the most since 2018 (277). After Sunday's win over the Jaguars, tight ends coach Ron Middleton, who led the team on Sunday for Saleh, said that OC Mike LaFleur challenged Wilson to be more aggressive while running the football and it showed.
"It was just conversations, trying to coach him up," LaFleur said. "I thought he had an opportunity on a scramble versus New Orleans to pick up more yards than he did. He got an explosive, but I thought there was a lot more. Keelan [Cole] was in a position to go block and I just told him within that moment that there was more there for you. You're a better athlete than you're giving yourself credit for albeit in the NFL. … And he did that this last game. He took off, gave a little bit of an okiedoke on the sideline. He was expecting to get shoved out, he didn't and he just kept it going. He made a few runs that were big for us."
Wilson, who won the award for his performance in the team's Week 4 win over the Titans and Week 13 loss to the Eagles, will lead the offense when it takes on the Buccaneers this Sunday at MetLife Stadium in Week 17.