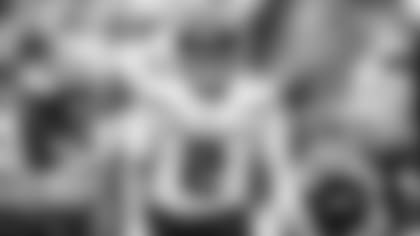 Jets QB Zach Wilson heads into the team's bye week with modest numbers, but he is 5-1 as a starter while guiding one of the NFL's biggest surprises.
"We're excited with where we're at, but we know there's a lot of work that needs to be done," Wilson said. "So, I think because of where we're at, guys are taking this bye week very seriously, as far as understanding where we need to be when we come back, the improvements we still need to make, and how we can just keep this thing going."
After being intercepted three times by the Patriots in a 22-17 loss in Week 8, Wilson rebounded in a 20-17 win over the Bills this past Sunday while completing a career-high 72% of his passes and throwing for one score.
"I just thought he was really good, just keeping the main thing the main thing, understanding that throwing the ball away or running with your feet, avoiding big negative plays is a positive and really thought he did a really nice job," said head coach Robert Saleh. "He's been doing it all year and you know he's still a pup, just like you guys have all had kids I'm sure, and every once and awhile they fall their face, you just got to pick them up and start walking again. So, New England, I get it, there were a couple of mistakes, but he's been having a really nice year and he's going to continue to get better."
Against the Bills, Wilson got rid of the ball quickly while connecting with eight different pass catchers on his 18 completions. He threw for 154 yards on 24 attempts as the Jets took a balanced approach offensively with 34 carries and 174 yards on the ground.
"Yesterday the mindset for me was get the ball out of my hands and let playmakers make plays," said the QB who hit Garrett Wilson 8 times for 92 yards. "Essentially, that comes down to me as well. Every single week, it's understanding what our play-calls are and how I can make quick decisions and get the ball out of my hands. Fortunately for us yesterday, it was all kind of clicking for us to be able to do that."
Wilson was able to covert in key moments against Buffalo. With his team trailing 14-3 in the second quarter and facing a fourth-and-1 in plus-territory, Wilson had no trouble with a short conversion to C.J. Uzomah after the two-minute warning. Three plays later, the Jets cut their deficit to 14-10 on Michael Carter's 6-yard run. Early in the third, in need of nine yards on third down, Wilson responded to all his targets being covered by scrambling for 13 yards. Then after an exchange of turnovers, Wilson's 5-yard third-down scamper moved the chains and preceded a TD throw to James Robinson.
"it doesn't really show up in the stats because they're not explosive plays, but he got two first downs with his legs, which were huge first downs," Saleh said. "One led to the screen that we scored the touchdown the very next play. He had a second-down throw away, which allowed us to convert on the next third down. So, he did a lot of really, really nice things, got rid of the ball quick."
On the Jets' game-winning possession, they pounded away at the Bills with repeated runs as they moved from their 4 to the Buffalo 18. On a third-and-5 play with 2:08 on the fourth-quarter clock, Wilson threw a laser to Denzel Mims. That hook-up forced Buffalo to use all three of their timeouts prior to the two-minute warning.
"That third down towards the end of the game to Mims was such a big play," Saleh said.
On Monday, Wilson was hoarse. He entered the game a bit under the weather but exited it a winner for the fifth time in six games.
"Voice was already a little bit shot before the game," he said. "I had a little cold, but then yelling on top of that kind of had me lose it. After that game, I could barely talk."
Wilson will head back to his native Utah this week to spend some time with his family before he returns to Florham Park for what promises to be a fascinating stretch run.
"Yeah, get to see my brothers a little bit. They have a bye week at BYU as well," he said of younger brothers, Cougar LBs Josh and Michael Wilson. "I will be able to go home, pretty much take care of the body. Still try to throw the ball around a little bit, of course, while I'm back home. Make sure I'm staying on top of everything -- maybe do a little bit of film study. Whatever it is, anything that's going to kind of keep my mind in the right mindset to be able to come back and then taking care of the body and making sure I'm ready to go."