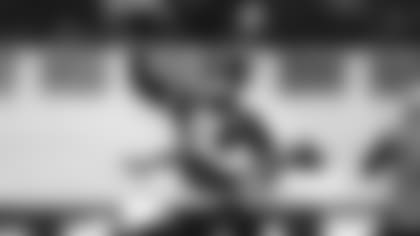 After missing the Jets' first two training camp practices while his contract was finalized, Jets rookie QB Zach Wilson made his on-field debut Friday and is ready to roll.
"Good to be here, man. Excited to be back," Wilson said. He later added, "Just anxious to get back and I think that's the hardest thing -- now money is involved. My whole life I just played ball to play ball because I love the game. I just want to get the business done with, so I can do what I love."
Wilson, who was able to catch some sleep on his red-eye flight before signing his contract, doesn't feel behind. He went over the installs and the playbook on his tablet while away from the team the past month and he felt like he knocked some rust off after seeing live action for the first time since minicamp.
"Football is one of the hardest games, especially at the quarterback spot to simulate a game," he said. "You can't go into a simulator, you can't go against air, you can't watch film to simulate exactly what goes on in practice. So, how can I train myself to get ready for that? There's no pressure behind it. The game is fast and you have to be able to get used to it and adjust to it."
Wilson, the No. 2 overall pick in April's draft, struggled at times in Friday's practice after completing his first pass attempt to fellow rookie Elijah Moore for roughly 40 yards. He was also picked off by S Marcus Maye in a team period.
"That's what practice is for," he said. "Every day is going to have something frustrating. That's why I'm out here -- I'm here to learn every single day, how I can improve. Knowing my plays better and then just the different looks our defense is throwing at us, it's going to be a process."
Head coach Robert Saleh said he expected the defense to have the upper hand in Friday's practice as the offense was digesting a heavy install.
"For [Wilson], it's getting caught up and finding a way to get better every day," Saleh said. "I know we can get focused on results, but there's a process and he's got a tremendous process. Can't control certain things that happen play in and play out, but you can control your process and how you approach day in and day out. I've already gotten a really good feel just going through the draft process and OTAs, he's going to have the right process and he's going to get better."
Saleh added there were no hard feelings with Wilson missing two practices and that his message was succinct when he saw his QB Thursday: "Go see Mike LaFleur."
Wilson embarks on his first training camp as one of three signal-callers on the roster, but Saleh said the 22-year-old has the "inside lane" on the starting gig.
"It's his to lose, but I never make a promise I can't keep," he said. "It's just a matter of him continuing to get better like we know he will and progress the way we expect him to."
As for any lavish purchases after signing his contract, Wilson wants something money can't buy.
"You can't buy a Super Bowl, so I guess I have to work for that," he said. "We'll go try and work for one of those."