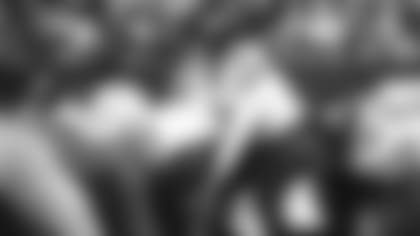 A fast start again eluded Zach Wilson and the Jets offense, and it was an uphill climb from nearly the get-go as the Los Angeles Chargers ended the Jets' three-game winning streak, 27-6, at MetLife Stadium on Monday night.
Fewer than 10 minutes into the game, the Jets had allowed a TD on a punt return, while committing two turnovers -- fumbles by Garrett Wilson (after a 7-yard reception on first down at the LA 44) and Zach Wilson, the second leading to the Chargers' second TD. Each of the turnovers came in Chargers territory.
"lt felt like [the offensive tempo] was working," HC Robert Saleh said. "We moved across midfield twice, right there moving the football. Just self-inflicted wounds. That's the frustrating part, we never gave ourselves a chance to get going."
Part of that was Wilson, who was sacked 8 times, playing behind yet another different starting offensive line. Joe Tippmann, a second-round pick out of Wisconsin drafted as a center, was back from injury (quad) and got his first NFL start at the position (after seeing action at right guard in four games) in the absence of Connor McGovern (knee). On the right, Max Mitchell tucked in from T to G and Billy Turner started at RT.
Z.Wilson was under pressure most of the night. The 8 sacks (several on third-down plays) yielded 57 yards lost by the Jets. They converted 3 of 17 (17.6%) on third down, 3 of 4 on fourth down and were 0 of 2 in the red zone.
"I think my job is to get the ball out of my hands as quickly as I can," said Z.Wilson, who was 33 of 49 for 263 yards and had 30-plus-yard completions to G.Wilson and Tyler Conklin. "I'm always trying to help the O-line up front. If there's an opportunity after watching the film to get the ball out faster, I'll learn it. That can't happen, I have to help those guys out, but give the Chargers credit, too."
The Jets (4-4) missed an opportunity to help themselves in the AFC East division race after Sunday losses by Miami, Buffalo and New England. The Green & White now head to Las Vegas for a Sunday night game against the Raiders.
The Jets offense was held without a touchdown, and the team's three offensive TDs over the last four games have each come on one-play drives. And as both Z.Wilson and Saleh repeated, the self-inflicted wounds included 4 pre-snap penalties and Z.Wilson's 3 fumbles (he had two in the Jets' previous game, against the Giants).
 "It's everyone," Saleh said. "Dropping passes, committing penalties [8 for 40 yards], not giving ourselves a chance to get in the flow, got to own up to things and have to be better at it. When you continually shoot yourself in the foot, that's the result you're going to get."
Asked for a frank assessment of Z.Wilson's performance, Saleh said: "Was it his best? No. His worst? Not even close."
There was a glimmer for the Jets after Greg Zuerlein converted his second field goal, to make the score 17-6, and the defense forced a three-and-out. The Jets put together a drive to the LAC 32-yard line, facing a third-and-three play. But a false start and then a sack of Z.Wilson forced a punt.
"We got to get things going," Z.Wilson said. "The defense is playing lights out. We got to find a way to stick together and I think we will, I have 100 percent trust. This league will do this to you sometimes."
Asked if he feels more confident compared to last season, Z. Wilson said: "I feel like I'm a different player. I'm in the best position I've ever felt mentally. My understanding of the game ... I feel I'm ready to be out there competing. It's frustrating just not getting things done and it starts with me finding a way."
See the best photos from Monday night's primetime game against the Chargers.