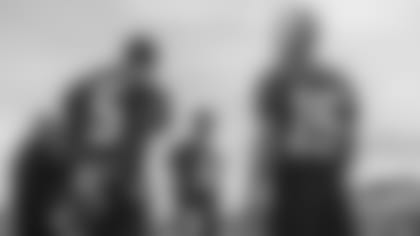 There were times during Saturday's practice when all three Jets quarterbacks couldn't miss. They were en feugo. It didn't matter who was up with the reps or where they were going — the ball was not touching the ground.
Josh McCown started off Period 2 with a couple of short tosses to the running backs and Teddy Bridgewater followed up with an impressive round that included a strike to TE Clive Walford and a rip to WR Quincy Enunwa on a comeback route. Rookie Sam Darnold took over from there, hitting everything in sight including three good-looking connections to tight ends. He found a tight window to Jordan Leggett with little room to spare between safeties Jamal Adams and Marcus Maye, Chris Herndon made a diving grab in front of the sideline and then Darnold unleashed a laser to Walford.
"It's exciting watching those guys come out and spin it," Bridgewater said. "It's like, 'Hey, okay the challenge is on and that's what you want. As a quarterback ,that's what you want from your football team — guys that continue to just bring the best out of each other, challenge each other and guys who live up to the competition. So it was fun watching Josh spin it, Sam spin it and just going out there and spinning it myself. We look forward to that every day because we know that at the end of the day we have each other's best interest and we want what's best for each other."
Bridgewater said it was probably the best collective day the quarterbacks had in camp.
"A lot of completions out there today and that's what you want to see," he said. "Finding all of your options, exhausting your progression, getting the ball to the running back and allowing these guys to make plays. That's why we have these playmakers that we have. Our job is easy, just get the ball to them. Today was one of those days where I think we did a good job of just playing fast, not overthinking things and just reacting to what we saw."
Weekend Laundry
Following a long week in which the Jets had three days of practices with the Redskins in Richmond, VA and then a game Thursday night at FedExField in Maryland, the Green & White didn't return home until around 3:00 o'clock in the morning Friday. After having the rest of the day off, the Jets pushed through on Saturday and had some trouble with penalties. Close to 10 were called in team drills, so that meant plenty of push-ups and some gassers ordered from the head coach.
"We were going to run some anyway because I was going to try to condition them after a day off," said head coach Todd Bowles. "Coming back off a long trip just to condition them and keep practicing to make sure we get our running in."
Sounding like a coach himself, Bridgewater said the challenging schedule is no excuse. The Jets will have three games in an 11-day span to start the season.
"The first way of beating yourself in this league is penalties. We have to come back tomorrow and just be more focused," added Bridgewater. "We have to be able to operate in different circumstances during the season. We are going to play on a Monday night, come back play on a Sunday and then play on a Thursday. We have to be able to just respond and bounce back to our schedules and no one is going to feel sorry for us. It was hot today, we just have to be mentally strong towards the end of practice."
Darnold's Diagnosis
After reviewing the game film of his first NFL start, Sam Darnold thought he managed his half well. But he acknowledged that he could have tried to squeeze a pass into Jermaine Kearse on a third-down where he was sacked in the red area and maybe could have tried a post route to Robby Anderson on a fourth-down toss instead of forcing a ball to Kearse that led to an interception.
"There's a fine line between trying to make a play and trying to make something happen and just knowing they got you," he said. "That's really where I've grown the most."
McCown, who in his 17th training camp, continues to be encouraged by the play of the 21-year-old signal caller.
"I think he is progressing well. From the day he got here until now, I've been very impressed with him," he said. "His ability to go from the classroom to the glass and grasp with information and go out and practice it has been impressive. He just has to keep growing one day at a time and kind of taking the next time. So the coaches will determine that and again, our job as a quarterback room is to be ready to go. Whoever is called upon and once that guy, once they determine who that guy is, then to get behind him and help that guy get ready."
Returning to Action
Rookie running back Trenton Cannon, tight ends Neal Sterling and Chris Herndon and wide receivers Terrelle Pryor and Quincy Enunwa all participated in team drills. Left tackle Kelvin Beachum and right guard Brian Winters were first up in the installation period but watched team drills. Cornerback Trumaine Johnson had a tight hamstring following Thursday's contest and was held out of action. Rookie corner Parry Nickerson, the sixth-round pick who has been slowed with hammy ailment, was limited in his return.
"He looked quick, he should have the freshest legs of camp," Bowles said of Enunwa. "He caught the ball well and we're working him in slow as well, so I'm happy to have him back."