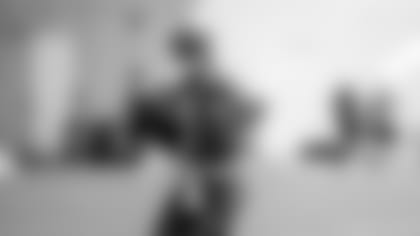 While Jets head coach Todd Bowles didn't reveal his plans on how he will divide playing time among his quarterbacks in Friday's preseason opener, Teddy Bridgewater is simply happy to be on the sideline with the opportunity to have his number called.
"I get excited every day I get to get my ankles taped, lace my cleats up, run out of the locker room and practice because it was taken away from me for two years," Bridgewater said. "To be able to just wake up and know you have the opportunity to continue to do something that you love doing, it's a great feeling.
"I'm looking forward to this upcoming preseason game. I'm looking forward to playing and just getting out there with the guys and bringing the energy."
Since suffering a devastating knee injury in August of 2016, Bridgewater has thrown two passes as the fifth-year veteran made a relief appearance in Week 15 last season. Leading up to Friday's contest vs. the Falcons in which he could receive a significant workload, Bridgewater talked about living his dream.
"Right now I am doing everything I dreamed of doing and that is waking up and continuing to play football," he said. "It's a wonderful feeling. It gives me the chills right now just thinking about it, knowing how the previous two years were. But you take advantage of this opportunity. I look forward to every day.
"Some people may say, 'This is training camp, this is the grind of things, I can't wait to get to the regular season, things will be easier,' but I look forward to it. You embrace the grind because it was once taken from you. I have to sit down and think about the next milestone, but for now it is just living in the moment, enjoying this opportunity and taking advantage of it."
The always positive, smiling Bridgewater has shown no signs of his injury through the spring and training camp. Bowles said he "looks like the guy that came out of college" and the 25-year-old has been impressive through the first two weeks of camp.
"It's showed how hard this guy has worked, what he's made of and what kind of character he has," said the fourth-year head coach. "His mental capacity is outstanding because he's very mentally tough. To overcome that and still come back to being normal is outstanding."