It has been close to three months since Jets QB coach Kevin Patullo addressed the media. In that time, a lot has changed. The Jets have a new starting quarterback, Bryce Petty has appeared in three preseason contests and the Green & White have added a pair of veterans for insurance as Geno Smith continues to work his way back from a broken jaw.
Patullo, who was an offensive assistant under Chan Gailey in Buffalo from 2010-'12, believes Ryan Fitzpatrick took immeasurable strides the last couple of years in Tennessee and Houston.
"I can tell his knowledge has grown with the game and his defensive looks and what he sees and can carry it over," Patullo said today. "His knowledge has grown a lot. He's a lot more mature in that aspect - seeing looks."
After Fitzpatrick suffered a broken leg last December, the Jets took a cautious approach with the Harvard product in the spring. He was full-go at the beginning of training camp and has thrown the ball with a lot of zip recently.
"He's so much of a timing guy. Every ball looks different, so it's really hard to say," Patullo said when I asked about Fitzpatrick's arm strength. "He's not a hold on and wait and drive it late – he's going to throw with anticipation and timing, so it's kind of hard to say. It doesn't look any different to me though."
Entering his 11th NFL season and having already experienced success under Chan Gailey, Fitzpatrick has become a valuable mentor for rookie Bryce Petty.
"It's huge because he can talk through things. He's experienced it all: the highs, the lows, the blitzes, the picking it up, the not picking it up, seeing it," Patullo said. "Even Matt (Flynn) is the same way. Matt knows a lot of football and he's seen a lot of plays, so he's able to help and even talking to Bryce. Even on the sideline the other day, Matt was talking through stuff with him so all those veteran guys are a great influence on Bryce."
Petty, a fourth-round selection from Baylor, has completed 60% of his passes in the preseason. The 6'3", 230-pounder has displayed excellent arm strength, looked poised in the pocket and benefited from his reps both in practice and in game action.
"Bryce is doing a good job, coming along and learning. I'm pretty happy with him," Patullo said. "He's had to learn a lot from Day 1 until now and it's definitely growing. Everything's new towards him, but he's doing a great job. In the classroom, he's great. He talks like a veteran guy, he understands what we're saying, he's growing up and matured as far as defensive looks. That's the biggest thing for rookies is defensive looks."
Petty has been sacked four times this summer and failed to recognize a blitz against the Giants Saturday night.
"You have to be able to adjust and try to use some keys to try to do the best you can," Patullo said. "If you miss it, you have to be able to adapt and quickly now. This is my problem and make it work."
Flynn to Fly Against Eagles
While Todd Bowles remained non-committal about whether Petty would play vs. the Eagles, the first-year head coach stressed that he needs to see Matt Flynn in action.
"What we're trying to do is relay to him maybe what he called in a prior offense – here's what it is, here's what it's like," Patullo said. "Try to read it like this, try to do… so that's how you have to try to hit those guys and he's doing pretty well with it. Everybody kind of does the same thing – it just depends on what they call it. So I have to try to find those words and try to work him through that, massage that. But he's doing pretty well."
Smith, recovering from a broken jaw, has been able to throw the football during practice and continues to participate in meetings with the quarterbacks.
"The whole offense was in. It was just some schematic things here or there, but we talked from the time he had surgery on about what we were doing and stuff like that. So from the mental aspect, he hasn't missed anything," said the Jets QB coach. "He's totally up to speed."
---
![](http://www.newyorkjets.com/now?campaign=relatedlink)
![](http://instagram.com/nyjets?campaign=relatedlink)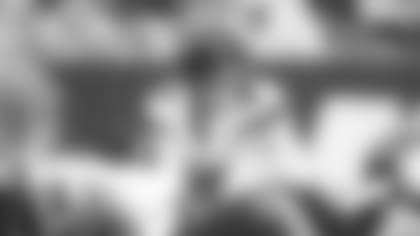 news
Jets HC Robert Saleh: Zach Wilson Is Our Unquestioned Quarterback 
Green & White Trying to Find an Identity on Offense; Third-Year Signal-Caller Will Start Against Chiefs Team That Features Patrick Mahomes, Travis Kelce