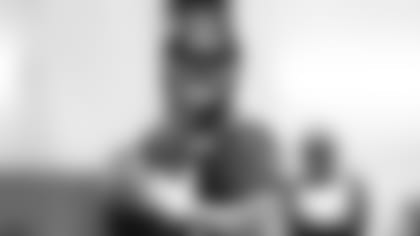 Sam Darnold has done his homework in preparation for Round 2 against Miami.
"Right now, we are just watching the tape and we are trying to get a feel for what they do, looking at how they played us last time," Darnold said of the Dolphins, New York's opponent at MetLife Stadium on Sunday. "If they do play us differently, we will have answers for it. We're really looking to have a good game and just execute our stuff. We try to take a balanced look at everything, like how they played us and how they have been playing other teams as of late. There is a lot of stuff that we look at on how we evaluate teams."
When the Jets and Dolphins played, in Week 9, veteran QB Ryan Fitzpatrick delivered one of his best performances of the season, completing 24 of 36 passes for 288 yards, 3 TDs and a rating of 118.8, which sent Miami to a 26-18 victory — the team's first win of the season. In the game, Darnold connected early in the first quarter with wide receiver Jamison Crowder for the Jets' sole touchdown.
"Whenever you lose, it's always tough to go back and watch the game, especially if you are not executing as well as you can on offense," Darnold said. "But there is always room to grow from losses, and that's how I look at it and I know that's how our guys look at it too."
He added: "They definitely did some different things though, but they didn't get us stuck. I know going into this one, we are going to be very prepared, as we were last time. They definitely brought some different things, but we are going to be prepared for it."
In nine games this season, Darnold, the Jets' 2018 first-round pick has completed 63% of his passes for 2,154 yards, 13 TDs and 10 INTs. And since the Green & White played the Dolphins on Nov. 3, Darnold ranks among the Top-10 in the NFL in passing yards (No. 6) and touchdowns (tied for No. 7). He still thinks he can improve.
"I think I can always continue to get better fundamentally with my feet," Darnold said. "I'm making sure that I am continuing to be fast in the pocket, making good decisions, quick decisions and really putting the ball in play, making sure that I am continuing to find completions out there."
After playing Miami, the Jets have one more game at MetLife Stadium this season -- Dec. 22 against the Steelers.
"I am continuing to learn every single day," Darnold said. "I am continuing to try to get better, and I think everyone on the team can say the same thing, so the growth never stops for me or the team."
See Best Photos from Friday's Practice During Week 14